The UK is currently suffering the worst inflation crisis in a generation, threatening to widen existing inequalities and to push many into poverty. The rise in pay, at around 5%[1], is not keeping up with an inflation rate of almost 10%[2].
In London this 'cost of living crisis', in addition to the COVID-19 recovery burden, is having significant consequences. In July 2022, 19% of Londoners declared that they were 'financially struggling', rising from 13% in January 2022.[3]
In this context one may conclude that helping households make ends meet is more urgent and important than tackling longer term environmental issues. But what if doing the right thing for the planet – by recovering and distributing goods that are currently wasted or underutilised – could also help struggling households to access necessities? 
This note will focus on key resources that households need but which are increasingly costly, and often wasted: food and everyday reusable items (such as white goods, clothing, electrical items and furniture). It will: explore the opportunities to reduce their cost, especially for low-income households, by recovering the value of currently wasted food and everyday items; highlight several existing solutions that can enable low-income households to access necessities at a reduced price; and identify barriers that may explain why those solutions are not yet used at a larger scale.
This note has been drafted to encourage boroughs, local community groups or charities to promote and scale existing waste-busting and money-saving solutions, and to inform them of the support ReLondon can provide to those organisations.
Londoners spend a lot of their budget on food and everyday items and low-income residents sometimes struggle to afford them…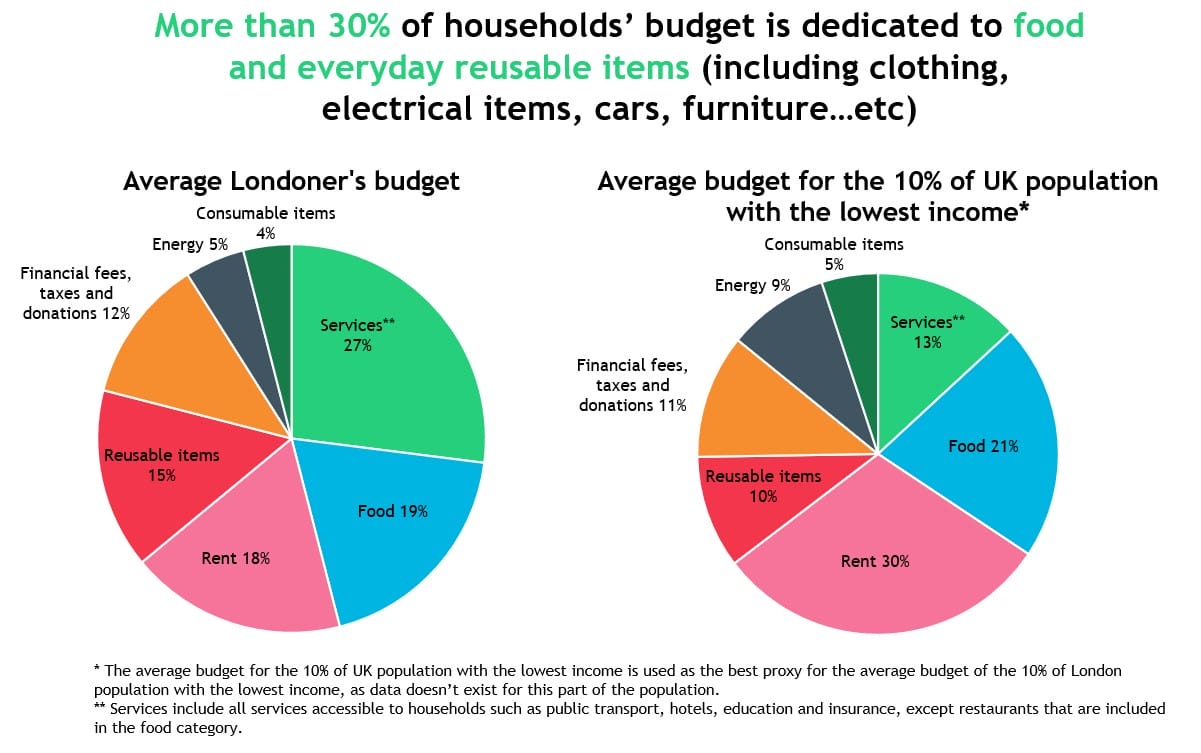 Food represents the second largest part of household budgets: 19% for the average Londoner (after services costs representing 27% of their average budget) and even more – 21% – for the 10% of people with the lowest income in the UK (after rent which represents 30%)[4] In London, food costs are rising faster than in the rest of the UK and this has put significant pressure on households: 12% of Londoners have regularly or occasionally been unable to buy food or essential items in 2022.[5]
Regarding other household goods, expenditure on reusable items varies greatly across the population: low-income households only dedicate 10% of their budget to them, versus 15% for the average Londoner. The small budget that low-income households can allocate to those everyday items sometimes prevents access to some necessities: for example, in the UK, 1 in 7 households with income below £35,000 live without at least one of the following essential household appliances: fridge, washing machine, cooker or freezer.[6]
It is therefore important to understand how food and everyday reusable items are produced and consumed across London and to explore whether there are opportunities to recover some of those resources which are currently wasted – and thereby help people access those necessities at a reduced price.
… and yet, a lot of those resources – food and household items – continue to be wasted, putting pressure both on household budgets and our planet.
The wastage of valuable resources is particularly significant in the food sector [7]
All actors in the supply chain have a responsibility for waste, from food producers discarding edible products that don't meet aesthetic standards, to retailers ending up with too much unsold surplus stock, and to some households who don't manage to eat food before it spoils or who do not eat leftovers when they cook too much for their friends and family.
Regarding other items, while some people are struggling to access some of the essentials, our throw away culture is still the norm for the majority of households who have everyday items sitting unused in their cupboards or being thrown away while still being fully usable.
Over and above the huge pressure on our environment caused by this wastage of valuable resources – 45% of carbon emissions[11] and 90% of the biodiversity loss[12] globally are caused by the extraction and processing of natural resources to produce food or new products – this also has a significant impact on Londoners' budgets, because it is costly for producers, manufacturers and ultimately for consumers, to produce all the food and everyday items that will eventually get wasted or left unused. 
There is therefore a real opportunity to ensure better, more productive use of those currently wasted resources, and to reduce the costs associated with them for those who need it the most and for all Londoners, who spend more than £10,000 a year on average to access those resources.
Solutions already exist to start recovering the wasted value of food waste and unused everyday items, and facilitate their access to low-income households
Many solutions exist to reduce the need to buy new everyday items, and their associated costs, such as: repairing damaged or broken goods; using items that other people don't want or don't often use; buying second-hand or vintage; and renting items they only occasionally need.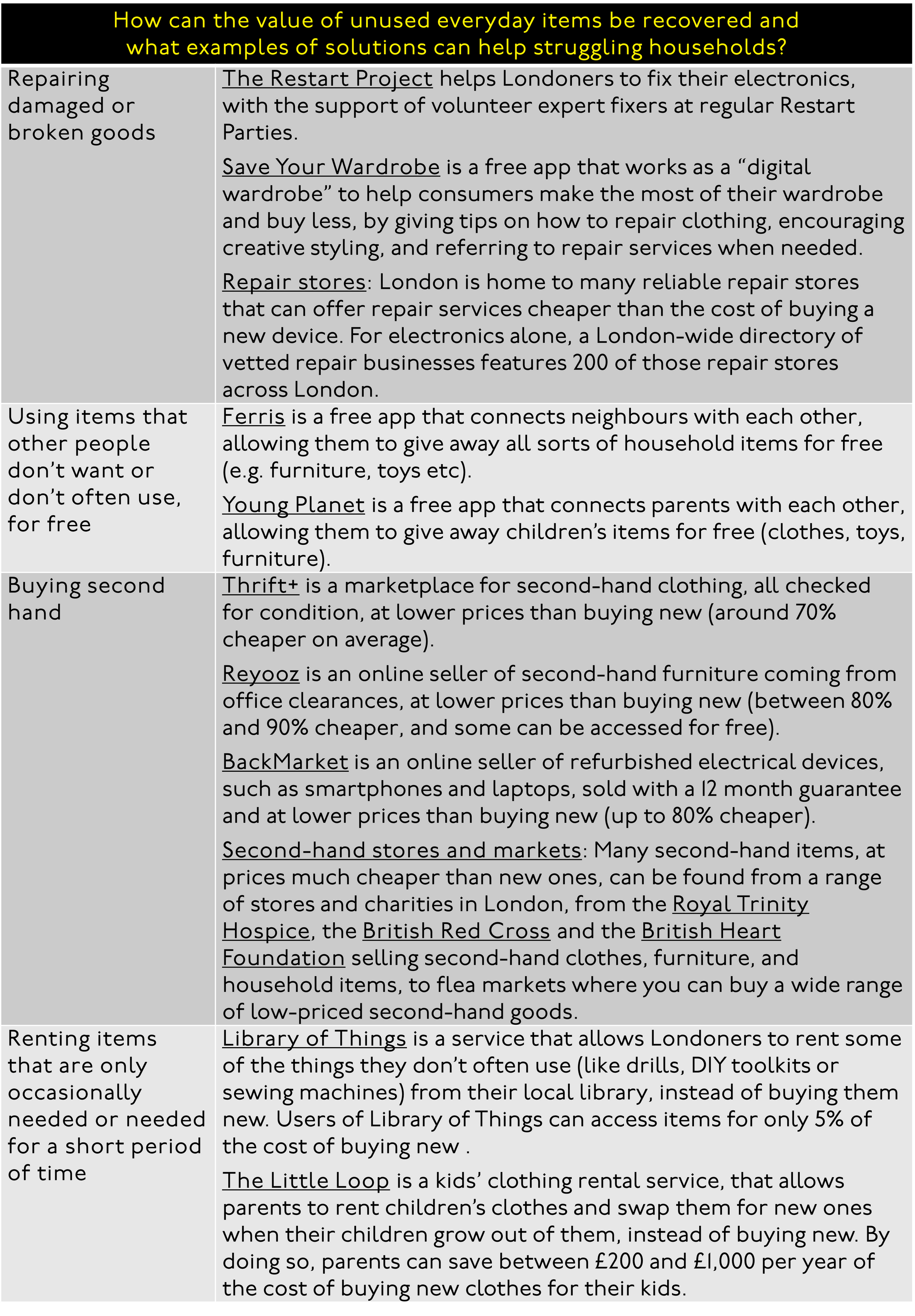 There is now an urgent need to scale those solutions (and more), making them available to those who need them the most.
Several barriers are currently getting in the way of those solutions achieving scale and reaching more people, especially those who might need them the most.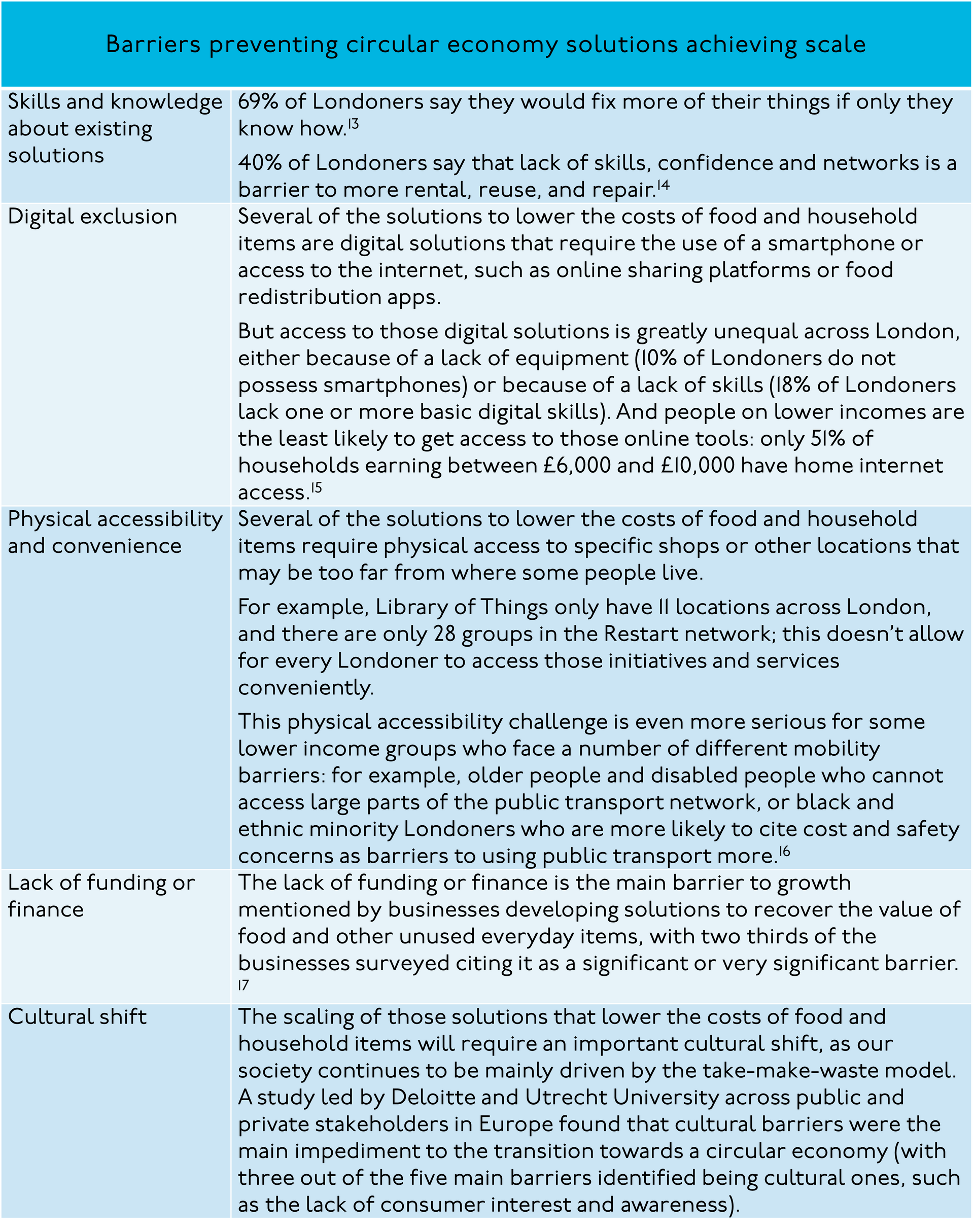 How ReLondon can help boroughs, local community groups and charities promote and scale those solutions in their areas or for their beneficiaries
ReLondon, the Mayor of London and the London boroughs are already taking action to tackle some of these barriers and promote more circular solutions: from supporting businesses developing ways to keep resources in use through grants and advice (for example through the Mayor of London's Green New Deal and local partnership with Islington Council); to demonstrating solutions on the ground (for example the Food Flagship Initiative, in partnership with the Mayor of London and the Ellen MacArthur Foundation); as well as engaging citizens directly (for example The Mindful Shopper guide or London Recycles' annual Repair Week campaign). The London boroughs are also taking collective actions through the One World Living programme, dedicated to significantly reduce carbon emissions associated with the consumption of food and everyday items, by reducing waste and keeping those resources in use for longer.
But as the cost of living is rising there is, now more than ever, a need to better understand how the access of those cost-saving (and waste-busting) sources of food and everyday items can be improved for low-income households. This could involve more targeted financial investment and support to businesses, so they can scale cost-saving solutions and make them accessible to everyone (for example by developing digital-free solutions or by extending the number of their locations); or it could include targeted educational campaigns and upskilling programmes to citizens (for example a London-wide repair skills programme).
Whatever they may be, those actions will need to be delivered in partnership with local communities or with charities in the social sector, to ensure the solutions are fit for purpose. Therefore, if you are a charity working with and for lower income households in London, or if you are a local community group or a borough wanting to scale and leverage those solutions to recover the value of wasted resources and help struggling households in your area, we would like to hear from you.
How can ReLondon help you as a borough, local community group or charity?
ReLondon has created The Mindful Shopper, a guide to help Londoners discover easy and often cost-saving ways to tackle the large volume of waste generated in our city. This guide is free to access, and we can provide communication material if you would like to promote this to your residents. For more information, contact hello@mindfulshopper.co.uk

ReLondon can develop and deliver bespoke grant and/or business upskilling programmes to support your local businesses develop cost-savings and waste-busting solutions for your residents. We recently delivered it for Islington Council. For more information, contact business@relondon.gov.uk.
——————————————————————–
[1] Average weekly earnings in Great Britain, August 2022, Office for National Statistics
[2] Consumer price inflation, UK: August 2022, Office for National Statistics
[3] The cost of living – August 2022 update, Greater London Authority
[4] ReLondon analysis, based on the following dataset from the Office of National Statistics: Family Spending in the UK: April 2020 to March 2021
[5] The cost of living – August 2022 update, Greater London Authority
[6] Living without, the scale and impact of appliance poverty, Turn2us 2020
[7]London's food footprint: An analysis of material flows, consumption-based emissions, and levers for climate action, ReLondon 2021
[9] Hubbub
[11] Completing the picture: how the circular economy tackled climate change, Ellen MacArthur Foundation, 2021
[12] The Nature Imperative: How the circular economy tackles biodiversity loss, Ellen MacArthur Foundation, 2021
[13] ReLondon's survey for Repair Week
[14] Library of Things survey with 350 of their users
[15] Data reported from the digital access for all mission, Greater London Authority
[16] Fair access: towards a transport system for everyone, Centre for London
[17] Survey done with 33 businesses who received support through ReLondon's business transformation programme