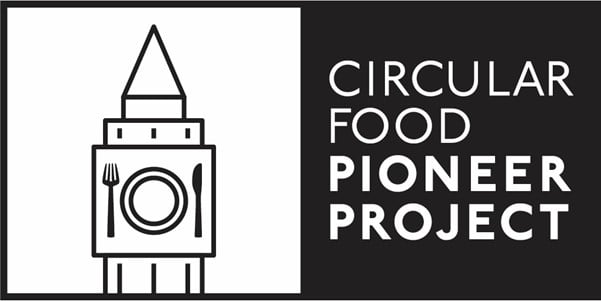 London's Food Flagship Initiative – led by partners ReLondon, the Greater London Authority and the Ellen MacArthur Foundation – aims to make a circular economy for food a reality in London. It is supporting innovative circular food projects that drive food system transformation and deliver reductions in CO2 emissions, and has also launched a Circular Food Pioneer Project status to formally recognise good practice circular food activities in the city.
Circular Food Pioneer Projects are promoted through Food Flagship Initiative partners' networks, can use a special certification stamp, and receive strategic support and targeted introductions to potential partners where needed.
Humane Society International: supporting chefs to create delicious and nutritious plant-based cuisine
Forward Food is Humane Society International UK's programme to encourage and enable the catering industry to put more plant-based food on plates. The programme aims to inspire chefs to create delicious and nutritious plant-based cuisine that appeals to everyone through practical training and support with menu design.
Impact Hub King's Cross: Feeding the City Accelerate
Feeding the City Accelerate is a transformative 5-month programme supporting 8 ethical food & drink enterprises to identify and embed circular practices. For SME food producers or manufacturers, making the transition to a circular business model can be daunting. Through a series of business diagnostics, tailored 1:1 support and peer learning, the participating enterprises will prioritise circular practices that enable them to scale their operations and unlock commercial growth.
Hubbub: increasing surplus food collection and redistribution
Hubbub is supporting a food hub in the London borough of Southwark to increase surplus food collection and redistribution by streamlining operations, piloting new business engagement tools, monitoring environmental and social impacts, and exploring self-sustainability and scalability.
Circular food innovation in London's hospitality sector
Creating and operating a restaurant within a circular framework
Apricity, the latest restaurant from award winning chef owner Chantelle Nicholson, is a low waste operation that champions local farmers, growers and makers. Menus celebrate British vegetables, regenerative farming, and locally foraged food and are accompanied by a zero-waste approach to cooking. The restaurant itself has been designed using a restorative design framework.
Turning bar waste into cocktail products
In this new pilot initiative, East London community cocktail bar [Roots] is collecting washed citrus waste from local bars as well as reusing the surplus generated in their kitchen, and synthesising the citrus into cordials. The product is being sold to their customers and to other bars.
Zero waste catering at events
Caiger and Co. Catering is a boutique event caterer which puts sustainable and seasonal produce at the heart of their hospitality process. In a new project, their chefs are working with suppliers to develop a zero-waste menu that makes use of surplus ingredients, alongside food waste monitoring in their kitchen.
LEAP Micro AD: Micro-scale anaerobic digestion
LEAP Micro AD is piloting a small-scale anaerobic digestion system on the Poplar HARCA estate, processing food waste from nearby residential estates and producing by-products to support hydroponic and soil-based food growing for local consumption. They are looking to scale this work and are currently fundraising to launch a commercially viable pilot in 2022.
Toast Ale: scaling the use of surplus bread in the brewing industry
Toast Ale, the waste-busting beer company, is scaling the use of surplus bread in the brewing industry by creating a pre-prepared brewers' ingredient (called a crumb) that other brewers can buy ready to use. This will allow it to support more breweries to transition to a circular model of brewing, scale the use of surplus bread in the brewing industry, and reduce food waste.
The Felix Project: turning surplus food into meals in a professional kitchen
The Felix Project is London's largest redistribution charity, rescuing surplus food and redistributing it to frontline charities, schools and holiday programmes across the capital. In a brand new venture, The Felix Project is opening its own professional kitchen in Tower Hamlets to provide ready cooked meals for vulnerable Londoners who do not have the means to cook meals from scratch. Run by experienced chefs and volunteers, the kitchen will prepare 1.5 million meals in the first year, with plans to reach 100 million meals a year by the end of 2024, preventing hundreds of tonnes of food waste.
ReLondon, Kitche and OLIO: minimising household food waste
Kitche and OLIO are free mobile apps to help citizens reduce food waste. A new ReLondon funded project will measure the impact of targeted local promotion of these apps to show whether they can reduce waste at a local level in London, which would in turn reduce emissions and save councils money.