Overview
The Mayor of London has set a target to reduce London's food waste by 20% by 2025. In response, technology pioneers, Olio and Kitche, worked together with ReLondon and the London Borough of Bexley, on an innovative tech-based solution to food waste reduction and redistribution. 
Funded by ReLondon, this project presented an exciting opportunity for public-private collaboration between circular SMEs and local government. 
Targeting households throughout the borough, the project not only captured valuable insights, but also contributed to positive behaviour change, with two tonnes of food being shared that would have previously gone to waste. 
What was the challenge?
Approximately 41% (931,000 tonnes) of total food loss and waste generated in London1 comes from households. Tackling household food waste is critical to achieving the Mayor of London's ambition to reduce London's food waste by 20% by 2025. 
The London Borough of Bexley's (LBB) population is currently at 246,500 (as of 2021) and set to grow by an additional 15,000 residents by 2030. Since 2018-19, Bexley has seen an increase in residual waste tonnages and a decrease in the amount of food waste collected per head, making it ever more important to tackle the issue of food waste in the borough.  
In order to engage residents with the issue of food waste, the council were keen to partner with two app-based SMEs, Olio and Kitche, to test localised messaging through new methods of communication.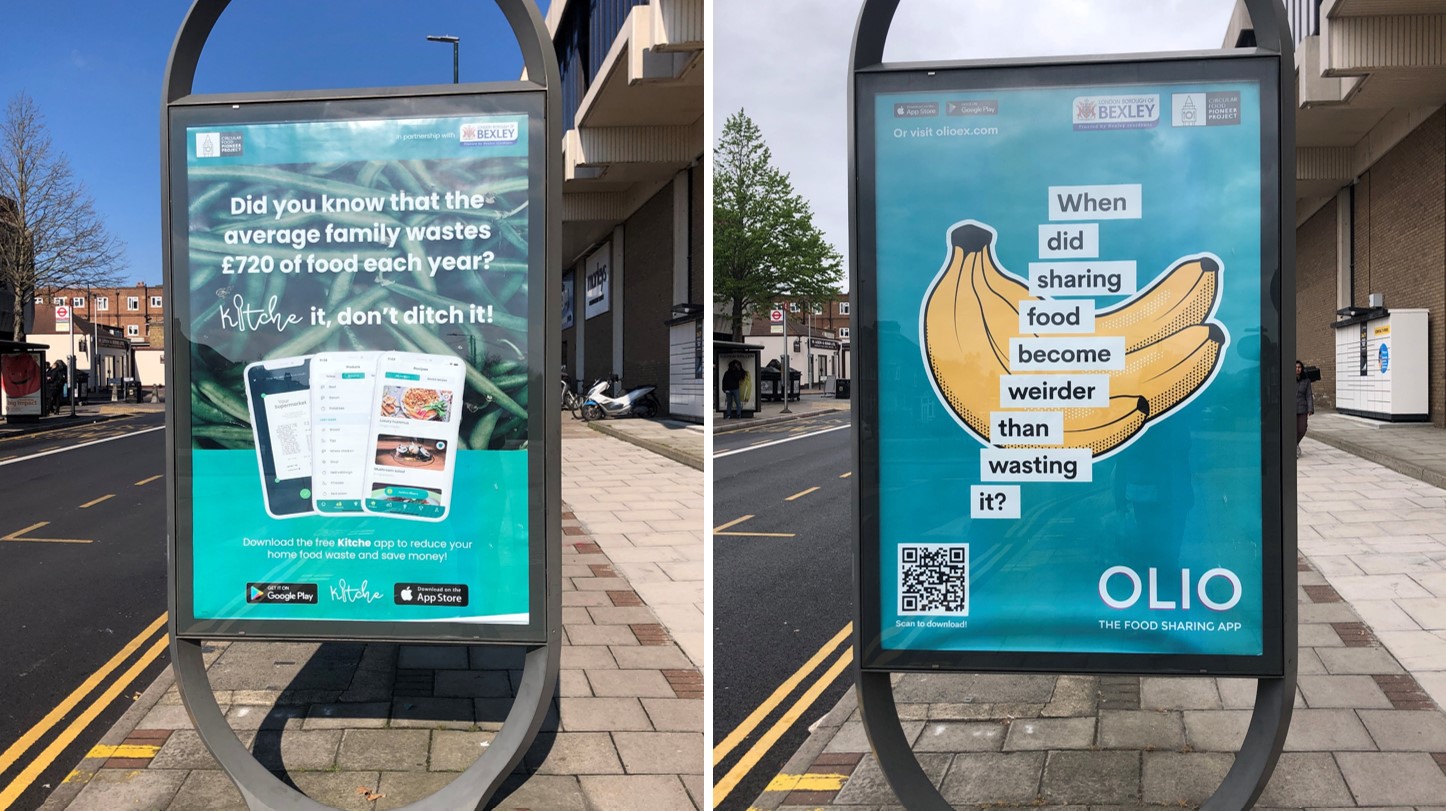 The London Borough of Bexley worked in partnership with ReLondon and two circular economy SMEs, Kitche and Olio, to develop and deliver an innovative borough-wide campaign as part of a pilot project to prevent edible food from being wasted. The six-month campaign consisted of traditional and digital marketing delivered across the borough directly via Kitche and Olio.  The project was funded by ReLondon and delivered by the SMEs, fully supported by Bexley's waste team. 
Both Olio and Kitche offer solutions to prevent edible food waste and redistribute valuable surplus that would have otherwise gone to waste. Kitche and Olio delivered staged and targeted communication between March and August 2022, aimed at encouraging residents to adopt more circular food habits. In parallel, generic and Bexley-specific assets were created to test whether local, community-based comms performed better. 
The campaign was delivered using targeted advertising on Facebook, Instagram, Google, and the app store. Traditional out-of-home advertising was also used including print and digital bus stop placements and billboards. Kitche distributed 50,000 leaflets to Bexley households as well as running a competition for one Bexley resident to win £720 in supermarket vouchers (the equivalent value of food wasted by an average family in one year). Olio produced branded stickers which were placed on 31,000 residual bins across Bexley – the first time the borough has allowed stickers to be used to promote a business. 
The council supplemented communications by also promoting the apps across their Facebook and Twitter accounts, newsletters, Greenpoints scheme, local libraries, and the Bexley Eco-festival.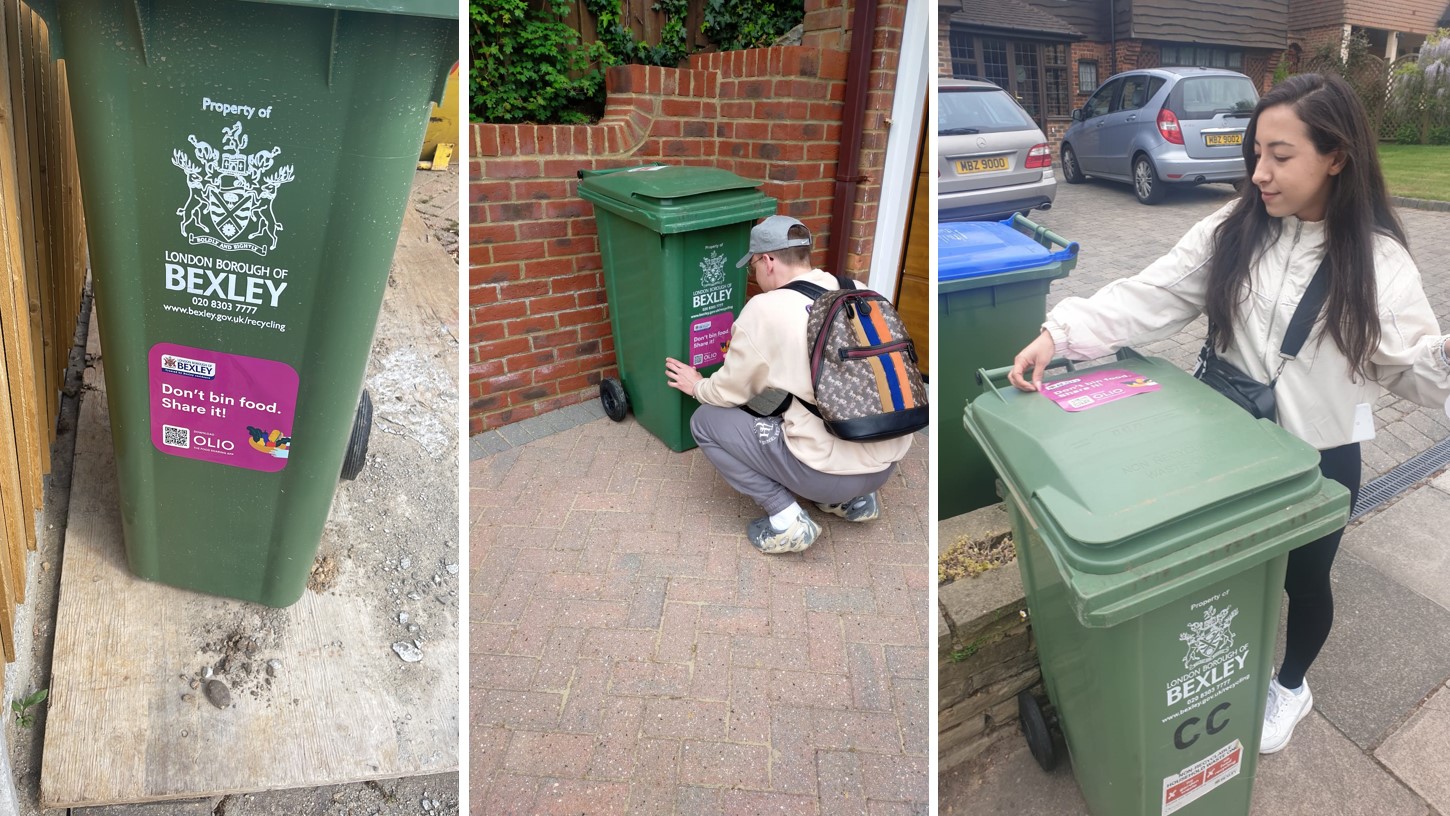 What were the outcomes?
The project had two main outcomes: valuable food waste insights were captured and community engagement with the issue of food waste increased.  
There was a high onboarding rate for both apps, with Kitche seeing a 3,000% increase in users (11 to 390) and Olio increasing its new users by 37%, which was the highest take-up of any London borough at that time. Overall, this resulted in a combined user increase of 1,500 users across both apps. The two apps used their different, but complementary, functionality to achieve the project outcomes. 
Kitche is designed to promote long-term food waste behaviour change through prevention, it encourages users to buy what they eat and eat what they buy. During the project, users across the borough imported 7,000 products into the app. This product data revealed that bread was the most wasted item (which is in-line with WRAP's Love Food Hate Waste findings), and that bread and fish had ​​​the lowest usage times. Overall, 65% of products registered on the app were used or deleted from the app, 31% were not reported on, and 3% were tossed / thrown away. This high percentage in products used indicates that an increased awareness led to better food waste behaviours.  
Olio provides a platform for households to share unwanted edible food, and reduce the amount that is thrown away. During the project period, there was a 42% increase in the estimated value of food shared on the app. This equated to two tonnes of food being shared across Bexley during this period, resulting 8.78 tonnes of CO2 being diverted and £10,400 worth of food being shared. 

Lessons learned and next steps?
This innovative circular project was a first on many fronts. It was the first time ReLondon had brought together a London borough and SMEs from their portfolio to collaborate on a joint project. Likewise, this was the first opportunity for Kitche and Olio to work directly with a local authority and tap into residents through this type of partnership. 
The nature of the campaign allowed for flexibility with regards to design and delivery: bright, eye-catching, and creative assets were designed by the SMEs and disseminated via various channels. While joint branding was used across all media, the nature of the campaign meant the apps could engage directly with residents who tend to disengage with communications by the council. 
The complementary nature of the two app approaches and functionality meant that the project was not only able to increase awareness of the urgent need to tackle food waste, but also to directly capture valuable information that could enhance future waste management strategies. 
The localised nature of the messaging, as well as the mix of digital, traditional and in-person communications, was time-intensive but did result in high levels of engagement and increased users across both platforms. However, social media and digital marketing was ultimately shown to be the least cost effective approach, particularly when creating such bespoke localised messaging. This learning will be important to feed into future campaigns. 
There was an apparent difference between the apps in terms of brand awareness, with Olio having a far greater customer base than Kitche, so another key element to future projects would need to be pre-communications to help residents understand the functionality and complementary benefits of both platforms. 
It will be important to capture further data around the project outcomes, particularly around what happened to the food shared via Olio, and around user retention rates, as well as the potential of incentives to encourage uptake and retention. 
Follow-up work from the project is already underway with ReLondon looking to work with and promote both SMEs through their circular neighbourhood project in partnership with the London Borough of Hounslow, launching in March 2023 and running until March 2024. In terms of the Bexley project, the learnings gained so far will inform the development of phase two for Spring/Summer 2023, which is currently being coordinated by ReLondon. 
The partners
London Borough of Bexley 
The London Borough of Bexley is a London borough in south-east London, forming part of Outer London. It has a population of approximately 250,000. The main settlements are Sidcup, Erith, Bexleyheath, Crayford, Welling and Old Bexley. 
ReLondon 
ReLondon is a partnership of the Mayor of London and London's boroughs to improve waste and resource management in the capital and accelerate our transition to a low carbon circular city. The mission is to make London a global leader in sustainable ways to live, work and prosper by revolutionising our relationship with stuff and helping London waste less and reuse, repair, share and recycle more. 
Kitche 
Kitche is a free app designed to save money and reduce food waste at home. The app shows users what food they have in their fridge/cupboard, reminds them of the food that needs to be eaten, and provides recipes to use up specific ingredients. It also helps users to understand the impacts of their food waste, by providing them with key facts and figures about their waste, such as ​​​​​​potential carbon and cost savings. 
Olio 
Olio is a sharing app for local communities that makes it easy to pass on the things you no longer need — from food to furniture, and clothes to books — to people who live nearby. 
[1] Excluding loss arising from imports. ReLondon (November 2021), London's Food Footprint