Snapshot
Putney has one of the most congested high streets in London making traditional recycling and waste collections challenging and, with time-bands in place, problematic for the local businesses.
ReLondon provided advice and funding to Positively Putney Business Improvement District to develop a localised, tailored solution that addressed the recycling challenges faced by businesses in Putney. This resulted in an innovative e-cargo bike scheme 'Putney Pedals' which has been operational for six months, enabling businesses to recycle 72% of their waste (up from 47%), and reducing RCV collections in the area by 290 each month.
What was the challenge?
Putney High Street is one of the most congested high streets in London, seeing more than 23,000 vehicle movements each day. High vehicle numbers and the congestion they create means that Putney regularly breaches its annual air pollution limits by the second week of January. Wandsworth Council has implemented two time-bands for commercial waste to improve street scene and reduce the amount of time waste is out on the public highway.
However local business owners have struggled to find commercial waste collectors who can collect at these times. During the morning time-band1 Putney High Street is so congested that collectors will not pick up, and by the evening time-band, many businesses are closed. As a result businesses often put their waste out for collection at times for which fixed penalty notices can be issued by the council.
Positively Putney Business Improvement District were eager to address the issues faced by local businesses, helping them find a solution to getting their recycling and waste collected conveniently and efficiently, whilst also offering a greater range of services, making it easier for businesses to recycle more.
What did we do?
ReLondon worked with Positively Putney, providing advice and funding, to develop a scheme that would address the challenges faced by local businesses. We knew that Putney would need a tailored solution that wouldn't add to existing congestion, that would allow flexibility in collection times and increase accessibility to recycling services. Working in partnership we investigated options for a local collection scheme, with a consolidation point used to store recycling and waste ahead of bulk collection.
After exploring several options for how to collect waste at a hyper-local level the partnership settled on collections via e-cargo bike. We engaged with experts in both waste collections and cargo bikes, and purchased an e-cargo bike that could collect recycling including separate food waste. ReLondon helped Positively Putney run a competitive tender, appointing Paper Round to run the bulk collections. Positively Putney hired two operatives to run the scheme on the ground and work with Paper Round to engage local businesses.
"Sarah from ReLondon has a wealth of knowledge about trade waste and helped us decide what would work for Putney businesses. We would never have got to this point without her expertise and commitment to make the project a reality. ReLondon also financially supported us, and without the support we would not have been able to trial such an innovative solution."

Nicola Grant, Executive Director, Positively Putney Business Improvement District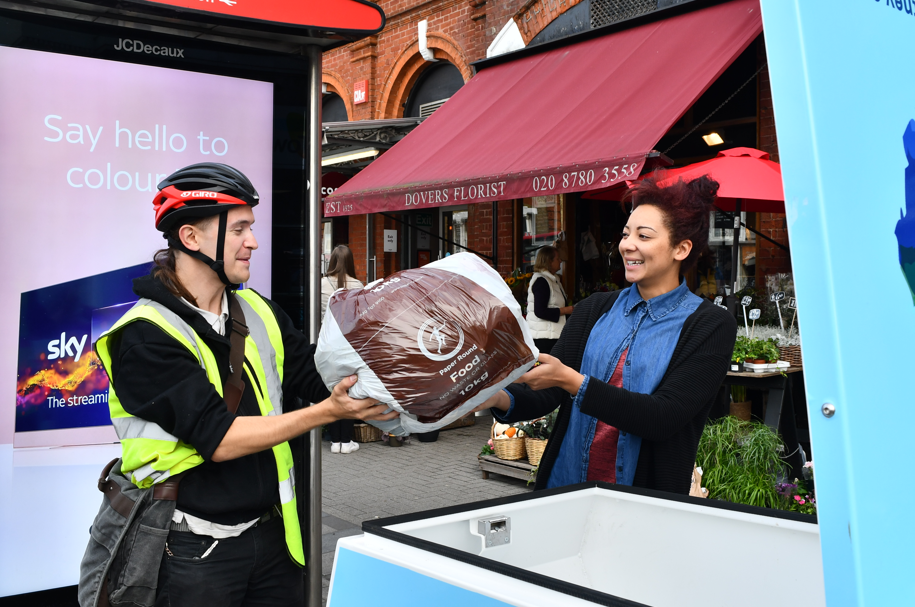 What were the outcomes?
The new e-cargo bike scheme 'Putney Pedals' has been operational for six months and is already achieving great successes.
Due to the e-cargo bikes, there are 290 fewer RCV collections each month, improving air quality and reducing congestion. Paper Round currently send in one vehicle a week to collect the consolidated recycling and waste; but this will soon be increased to twice a week due to the scheme's popularity. As capacity for the bulk collections increases, RCV collections will reduce even further. Customers also have their recycling and waste sacks delivered by the bike, removing the need for regular delivery vehicles.
As well as delivering improvements in air quality, the scheme is also designed to improve recycling. Positively Putney have provided a subsidy for Paper Round's recycling services, so that local businesses can use them more. As a result, the scheme's recycling rate has increased from 47% to 72% in just the first six months, saving over 1 tonne of CO22 each month.
Putney Pedals also delivers great benefits for local business owners. Collection times are scheduled to suit customer needs, and all collections are completed from within business premises. Businesses no longer need to present waste on the public highway so don't need to comply with time-bands; this also improves the street scene.

What was learned?
One of the biggest challenges when designing the scheme was establishing the waste consolidation point. It took significant resource from Positively Putney to secure a location and find a way to set up a secure container. ReLondon helped Positively Putney explore different storage containers, who finally secured a metal container that a local business no longer required, giving it a new life. A green wall was installed around it to keep the street looking good, and new seating was provided for passers-by.
By far the largest challenge of the project was COVID-19 and the restrictions of lockdown. Initially planned for launch in April 2020, the scheme was delayed until autumn that year. ReLondon, Positively Putney, and Paper Round jointly launched the much-anticipated scheme finally on Clean Air Day 2020 – although due to further restrictions it was paused again just a few weeks later. All three partners were finally able to re-launch Putney Pedals in April 2021, and it has been growing ever since.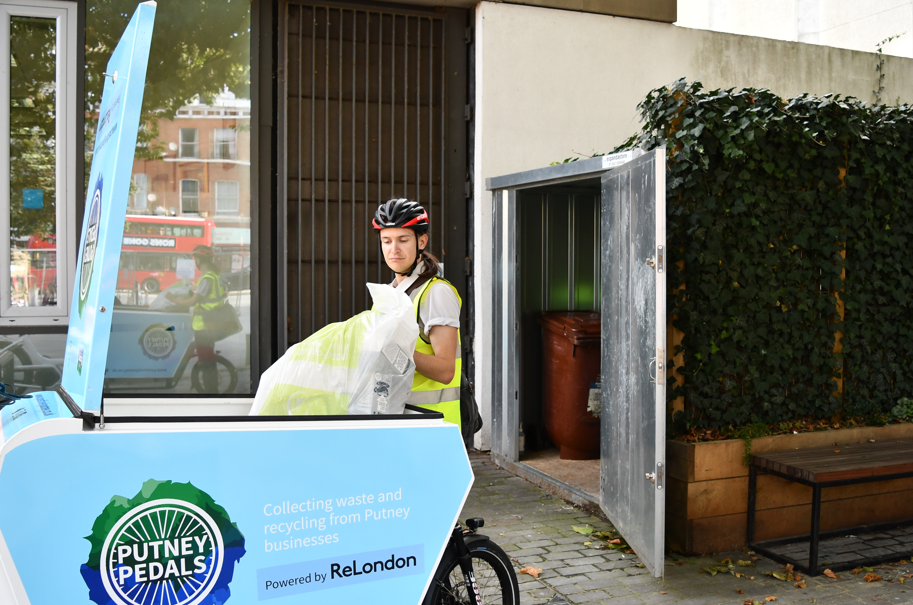 What's next?
For Putney Pedals itself, the next steps are continuing to grow the project. Positively Putney and Paper Round continue to engage with local businesses in the area, encouraging more sign-ups to the scheme.
Given the positive impact that Putney Pedals is having on the local area, ReLondon hopes that other business improvement districts, local authorities and the private sector will establish similar schemes across London. Putney Pedals proves that there are innovative ways to better manage commercial waste collections, and we believe they can drive real change to recycling rates and air quality across the capital.
If you'd like support setting up a waste consolidation scheme or need advice on commercial recycling and waste collections then get in touch with ReLondon.
1. Time-bands are restrictions that mean businesses can only place their recycling and waste sacks out on the public highway at certain times of day.
2. Calculation provided by Paper Round. Calculation comes from data provided by WRAP which calculates the CO2 saved by recycling materials rather than sending them to landfill (https://wrap.org.uk/resources/report/environmental-benefits-recycling-2010-update).
*Defined as a collection of a single waste stream from a single business premises