Innovation by London small business catalyses the city's cleaner, greener recovery
Transitioning towards a circular economy has the power to deliver climate action alongside economic resilience and job growth. By revolutionising our relationship with stuff, we can reduce the 45% of global emissions that come from all the food, materials and products that we make, use and consume every day, while a shift to a circular economy could create an additional 284,000 jobs in London by 2030.
The Mayor of London's Green New Deal, part of the London Recovery Programme, embraces this opportunity and seeks to tackle the climate and ecological emergencies by doubling the size of London's green economy by 2030 – the same year the city aims to reach net zero.
Since 2017, our business transformation team has worked with over 350 businesses across London to drive sustainable and resilient growth, helping them use circular economy strategies to reduce costs, improve resource efficiency and generate new revenue streams. Through this work, we have seen how well positioned small and medium sized businesses (SMEs) are to test out new ideas in the circular economy.
In 2021, the Mayor of London engaged ReLondon to design and deliver a circular economy grants programme that would help businesses – in particular those disproportionately affected by the pandemic, such as those reliant on hospitality sectors or founders from under-represented groups – to build their resilience and improve their environmental footprint. This included helping both everyday businesses to develop the skills and offerings needed to compete in a low-carbon, circular economy, while also supporting existing circular businesses to develop new products and processes that grow their business.
Trialling new initiatives can be time-consuming, expensive or difficult to fundraise for small or early-stage businesses. In the wake of the COVID-19 crisis, and with inflation and costs spiralling, many small businesses needed to focus their efforts on survival and day-to-day operations rather than trying something new. Grant funding can help de-risk this, which is why we were pleased to make £390,000 available to small businesses trialling circular innovations that reduce waste or increase reuse, repair, sharing or recycling.  
What did we do?
Businesses from across London were invited to submit proposals for funding. To be selected, businesses were required to have a clear, innovative circular economy pilot design which would support jobs and commercial growth while creating measurable environmental impacts.
Thanks to dedicated business-engagement efforts, the programme received applications from 107 small businesses from across London, 3.6 times the number of grants available. 34 businesses were selected and awarded grants of either £10k or £15k to trial or scale circular economy business models, located in 19 boroughs across London. Selected projects ranged from piloting reusable alternatives to single-use plastics and testing rental services for clothes and jewellery, to developing new products from pre-consumer textile waste. Grant awardees spent the largest proportion of funding on salaries (42%) followed by equipment and materials (37%), demonstrating a strong level of investment focused on their future commercial and environmental performance.  
To increase the chances of awardees successfully implementing their circular economy activities and having the impact they hoped to achieve, ReLondon offered all awardees 'wrap-around' support alongside the grants over a 6-month period. This included one-to-one mentoring and advice from a business advisor, as well as workshops and networking events to support peer-to-peer interactions. Overall, awardees were able to access 650 hours of advisory support, including 5 dedicated workshops on topics such as impact measurement or how to successfully design pilot projects, three networking events alongside regular contact with members of ReLondon.
An important aspect to the programme's design was ensuring that founders from demographic backgrounds and sectors that were disproportionately affected by the pandemic had access to the support. 29 of the 34 businesses selected met at least one of the priority criteria for selection (e.g. gender, ethnicity, and sector). As a result, 58% of supported businesses are led by individuals from Black, Asian or other minority ethnic groups, 70% have female (or shared) leadership and 67% of businesses depended on the hospitality or retail sectors.
The pilot has helped to support our research and development in the studio: every day we learn something new. We've had some sharp learning curves in this process which have been so useful.

Sales and Project Manager, Phoebe English
This programme has confirmed that a relatively small investment will unlock business' ability to introduce circular economy activities, and can contribute to London's economic recovery from COVID-19 by improving the performance of businesses whilst tackling waste streams.

Businesses have seen direct commercial benefits from their circular innovations. 59% of businesses receiving pilot grants have already recorded commercial benefits 6 months after launch, such as generating new orders or increasing profit margins. Two businesses have gone on to attract private investment worth £3.8m to further the pilot initiatives seeded through the grant. 12 businesses launched new products to the public while others secured new contracts, partnerships or places on accelerator programmes.
This commercial success has been reflected in employment opportunities at participating businesses. The grants helped ensure 344 jobs were still in place six months on. The grants also led to a 28% increase in the total number of job across the portfolio, of which 97 roles were specifically created (at least in part) to carry out the pilot project or allocated to work on the circular pilot project.
Feedback and case studies from businesses also highlight the co-benefits of delivering these schemes in terms of teaching employees new skills or building awareness of environmental issues with their customers. For example, Birdsong's pilot restoration service provided additional work for members of their makers network as well as generating excitement among customers through marketing content.
Finally, the programme has catalysed circular economy strategies and innovations that reduce London's waste and consumption-based emissions. 62% of businesses were able to demonstrate environmental benefits within 6 months, with at least 11,500kg of waste diverted from traditional waste streams through reuse or other strategies. One business, Dartford Composites, was able to recover 67% of chemicals used in manufacturing as a direct result of the funding, helping save 5,000 kg CO2 equivalent per year and annual savings of ~£9,500. Another, Thrift Plus, collected 2,700kg of clothing to be recycled and reused which might otherwise have been sent to landfill. Meanwhile, awardees demonstrated their potential to influence behaviour change in society with a combined 550,000 followers on social media.
Case study: Colour Sound Experiment
Supplying equipment such as lighting and video equipment for live events and broadcast, Colour Sound Experiment identified an opportunity to reduce waste within their rental operations. Their 10,000 lighting fixtures and 2km of LED screens require a wide array of heavy-duty cables which frequently return damaged. Without an efficient way to identify faults and repair them, it was more economical to discard and replace about one third of their cables each year at a cost of £75,000.
With their £15k grant they were able to purchase a PAT4 testing system that speeds up fault-finding and repair. After testing, this enabled an economically viable repair process that increased the amount of cable reused by 44%, with an estimated 3,700kg diverted from landfill. With support from the business transformation team, they measured repairs and explored potential repair services they can offer to other businesses, generating new revenue.
Read the full case study here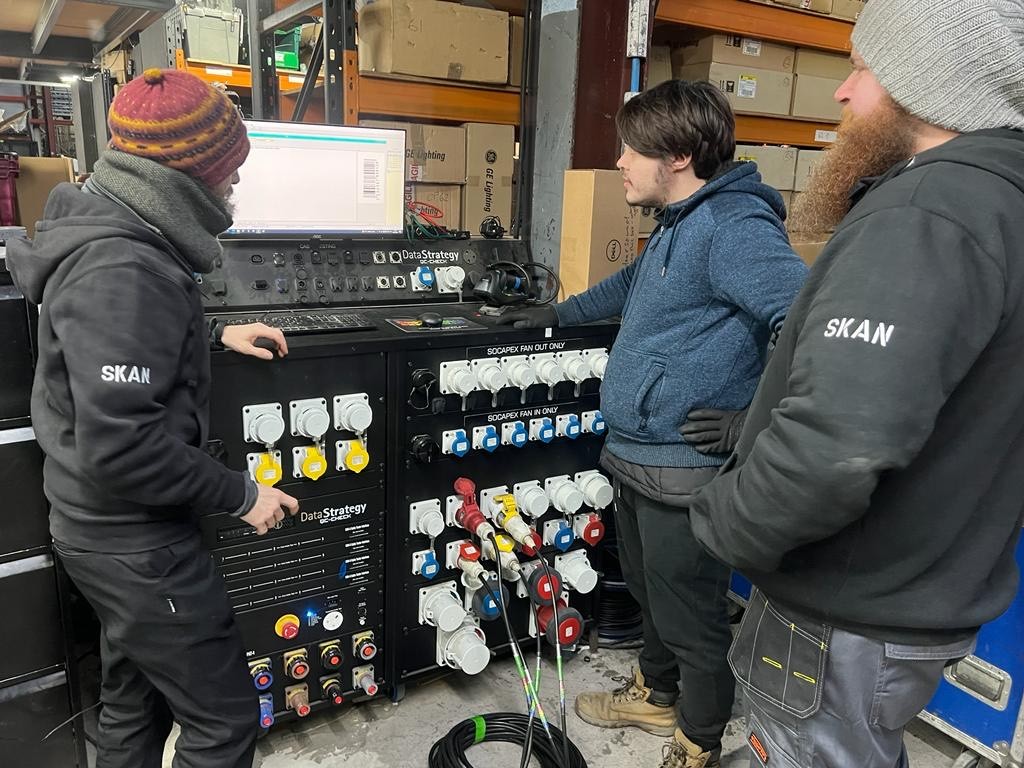 What was learned?
This programme has demonstrated that supporting businesses to implement or scale the circular economy can deliver multiple positive outcomes – whether direct commercial benefits for the business, or to the city's economy as a whole in terms of tackling the climate emergency and fostering job opportunities. There is healthy demand from businesses to trial and scale circular economy models, as demonstrated by the number of applications and feedback from successful awardees, with evidence that grants free up business' capacity for innovation.
We found that funding was best complemented with accompanying advisory support, particularly in early stages of the project, to ensure businesses effectively design and monitor projects. Circular business models are still new, and continuously being tested and proven at scale. To generate knowledge more quickly about what it takes to run viable and environmentally positive circular initiatives, support programmes should encourage the sharing of lessons learned and case studies, community-building and peer-to-peer relationships.
Future grant programmes can benefit by ensuring that monies can be flexibly and pragmatically deployed, with minimal restrictions on expenditure. There were advantages in allowing awardees to propose an expenditure plan that best suits their industry, projects and circumstances – as opposed to imposing a certain type of expenditure (e.g. staff, equipment).
Working alongside an organisation such as ReLondon can help de-risk the grant-giving and innovation process. ReLondon's expertise add tangible value for funding organisations such as the Greater London Authority and the London boroughs by enabling beneficiaries to access parallel support programmes, grant opportunities and networks; supporting businesses to track the environmental benefits of new initiatives; and providing specialist knowledge to improve the design of new initiatives; as well as developing governance structures that provide flexibility while maintaining accountability.
Next steps
ReLondon believes grant schemes such as this one can be an effective lever for local government and corporates to drive innovation, build business resilience and tackle consumption-based emissions. If you would like to explore working with ReLondon to deploy finance towards circular businesses, please get in touch with the business transformation team at business@relondon.gov.uk.
For more case studies, visit: http://relondon.gov.uk/business/our-impact/success-stories/