Snapshot
Channel Projects, an architecture studio, sought to develop a solution that would encourage steel reuse in the construction industry, in order to tackle the material's significant contribution to global carbon emissions.
With support from ReLondon's business transformation team and the Mayor of London's Green New Deal fund, Channel Projects was able to further develop its "ReFrame" industrial building concept and business model.
A compelling marketing document was produced, documenting the design process and implementation of a ReFrame building. Channel and its partners estimate that the final building frame could be constructed from up to 100% reused steel, bringing huge potential for reducing in GHG emissions. The first prototype frame has been constructed using 83% reused steel. Availability of labour led to plates for connections being sourced new.
The work and passion of Samuel Little, co-founder of Channel Projects who sadly passed away in February 2022, have been paramount to the inception and development of the project. His academic, professional and personal interests in the potential for structural steel reuse have been critical to the partnership and works. We hope to recognise this through the continuation of this and other projects he cared deeply for.

Business Transformation team, ReLondon
What was the challenge?
Channel Projects are a London-based architecture practice who set up in 2020. They offer specialist design and research services for low impact and 'circular' projects within the built environment. Their work spans a range of scales, ranging from furniture, exhibition fit-outs, and all the way to residential and large span agricultural and industrial buildings.
Channel Projects knew that whilst steel is an important material for the construction industry, it is also a significant contributor to global greenhouse gas emissions. Use of steel in the construction industry accounts for around 4% of global carbon emissions and the quantity produced has been steadily rising year-on-year. The prospect of renewable energy or increased recycling offers limited results when it comes to steel. Steel is difficult to produce using renewables because it is made by heating iron ore and carbon, requiring huge quantities of energy. And while recycling by melting-down scrap material is common, it also requires a lot of energy. Many of the basic furnaces that prevail globally can only accept 20% scrap material.
That's why they were interested in exploring a different route: reuse. They felt there was a particular opportunity when it came to standardised products such as structural steel. Reusing a structural section can save up to 96% of the embodied carbon. However, this remains a challenging and marginal practice in the UK and abroad, and to mainstream would mean building up understanding of the unique design processes needed to integrate reused components. Channel were ready to take on this challenge.
What was the response?
Alongside project partners, Channel Projects developed a new circular concept named ReFrame. ReFrame is a series of adaptable, single-span agricultural kit buildings made from 75%+ reclaimed or repurposed steel.
We were pleased to be able to offer them a circular pilot grant of £10,000, thanks to the Mayor of London's Green New Deal fund, to demonstrate how their designs from reused steel could be cost effective and have a significantly reduced carbon footprint compared to standard industrial buildings.
To realise the ReFrame project, Channel worked with Simple Works (structural engineer) and Cleveland Steel and Tubes (steel stockholder, client and fabricator). The partners developed aspirational documentation to communicate their exploration of steel reuse, and developed a new business model around their designs for agricultural kit-buildings made from surplus and reclaimed structural steel.
Along the way, they had to contend with challenges related to the changing market for used steel and ensure that their designs could react to changes in available stock. Other challenges concentrated around their initial idea to seed a new, separate business for the Reframe project. In the end, Channel decided that the project is better to be incubated as a dynamic partnership making use of each of the partner organisation's abilities until the market matures further.
The Green New Deal grant and ReLondon support gave us time and space to develop the concept and create marketing material that showcases our part in making the circular economy a reality.

Ryan Cook, Director, Channel Projects
What were the outcomes?
So far, Channel have been able to develop and amend their prototype building design, and draft a marketing document explaining the process, development and benefits of re-used steel. They were also able to engage graphic designer, Daly & Lyon, and photographer, Theo Simpson, to ensure a quality, inspirational output document and spend time developing their ideas of how the partnership will operate.
This pilot has been instrumental in demonstrating how challenging and hazy concepts can be brought to life through the use of careful design, photography and storytelling. This, in turn, can help build momentum and demand in a sector that is still tending towards linear modes of operation.
In order to achieve their ultimate goal of increasing steel reuse, it was important to showcase the work they had done in partnership with Cleveland Steel and Tubes and Simple Works and bring the concept closer to market. It has helped to demonstrate Channel's expertise and understanding of how circular economy principles can look in practice, moving beyond theory and academic literature.
Channel Projects were able to show how their designs can be constructed from 80% to 100% reused steel. They also continued to build a practical business case that has the potential to engage new people in the concept re-use while better understanding the part they can play in the value chain.

Lessons learned and next steps
Channel Projects' work is a great illustration of how innovative partnerships can help further circular economy concepts that have the potential to generate new revenue streams. While there is a long way to go before Reframe buildings are the norm, the work of documenting and communicating carried out as part of this pilot is an important step towards mainstreaming steel reuse.
For other businesses seeking to implement similar innovative design work, we encourage them to maintain a steady focus on their customer and what they are looking for. Spending time to understand how their work delivers value to the customer (both economic and environmental) helps to ensure your communication is clear and impactful.
Remember that developing a successful new business model can take time and requires engagement with all kinds of different stakeholders to understand the market and how your business can provide the solutions people are looking for.
Channel Projects plans to continue to develop its ReFrame concept, showcasing the documents produced through this project and further testing the market for its innovative designs. They are currently developing a second prototype frame with Cleveland Steel and Tubes and Simple Works, that will make use of Back-to-Back PFC elements to form agricultural portal frames.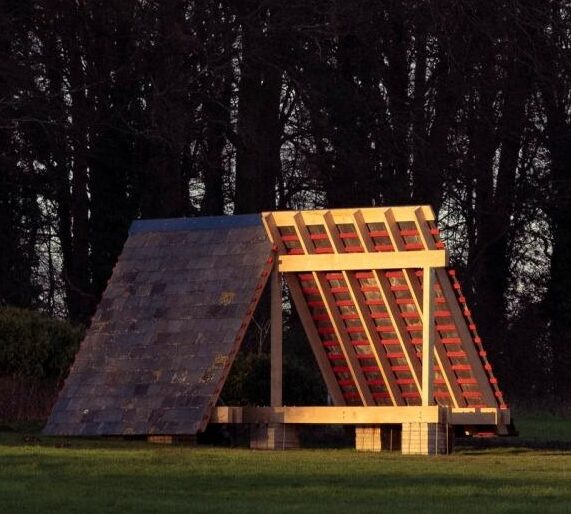 Get in touch
If you're interested in working with Channel Projects, visit their website or get in touch with Ryan Cook (ryan.cook@chnnl.uk).

ReLondon's business transformation team continues to help small-and-medium sized businesses in London adopt the circular economy through our advisory support, grant schemes, and matchmaking services. Find out more about our fully funded business support programme at our website.