Support given:
59 Productions, a design studio and production company based in Islington, knew that the materials used in their designs represented one of the company's biggest carbon hotspots. They wanted to find lower carbon alternatives to the materials they use and empower their staff to make more sustainable choices.
With the help of a grant from the Mayor of London's Green New Deal fund and advisory support from ReLondon's ERDF-funded business transformation programme they were able to create an in-house digital material library and physical archive to help designers select recycled, recyclable, reusable and lower impact materials for their productions. 200 materials were catalogued into a materials library and ranked in terms of circular economy principles. The database was made accessible to the whole organisation and 30 staff were actively trained in the principles used to identify more environmentally sustainable items.
What was the challenge?
59 Productions is a design studio and production company that serve clients such as the National Theatre and the Royal Opera House. They focus on finding new ways of telling original stories through innovative design, video and lighting and are specialists in design for stage and live events. Working in this sector has its challenges in terms of environmental sustainability, since live events are temporary by nature and operate on tight timescales.
59 Productions has made some great strides to promote low impact design. Having carried out a carbon impact measurement with Julie's Bicycle in 2019 they identified that the embodied carbon in the materials used in their set and stage designs represented one of the company's biggest carbon hotspots.
This insight led them to seek opportunities to reduce or eliminate waste – especially when an installation is dismantled. Being new to the circular economy, a key challenge was to ensure that their architects and designers had easy access to information about the sustainability of materials at the point at which they select them for new designs.
What was the response?
ReLondon was pleased to award 59 Productions a grant from the Mayor of London's Green New Deal fund. This allowed the company to research and catalogue the sustainability credentials of materials used in their sets, identifying those that were more resource efficient and lower carbon. They were supported throughout by a business advisor from ReLondon's ERDF-funded business transformation programme.
The project team started by cataloguing currently used materials into a digital library and made this accessible to all staff responsible for choosing materials. Alongside the digital database, 59 Productions created a physical material archive to display samples and products of preferable alternatives to the standard materials used. Relondon helped the team define a hierarchy of preferred materials and products, and create an easy to use "traffic light" system to highlight the 'best' ones across chosen sustainability criteria.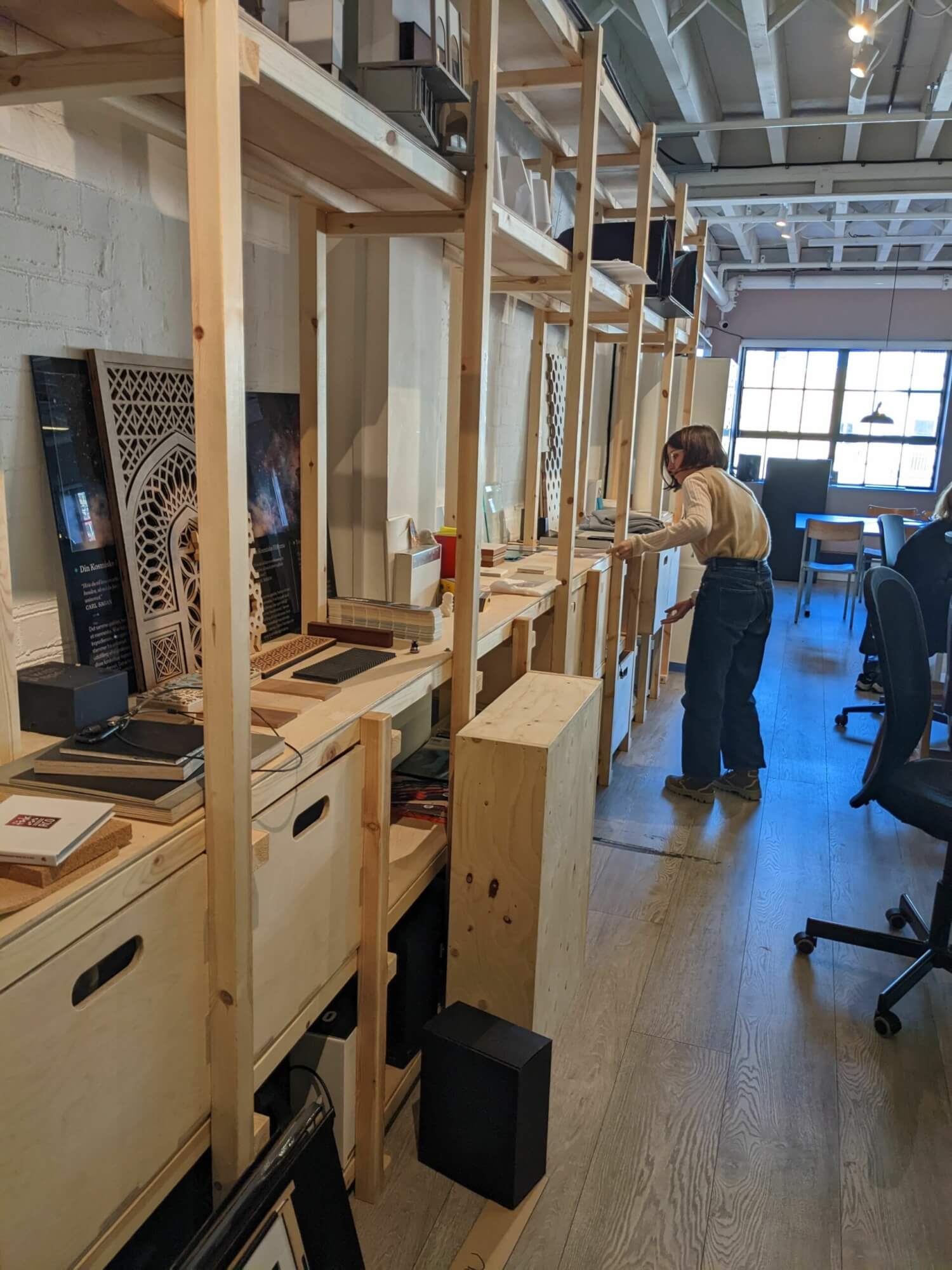 59 Productions also conducted research into the properties and environmental impact of using different materials. They considered different aspects such as recycled content, toxicity, biodiversity issues linked to manufacture, lifetime re-use and repair capacity, and end-of-life options such as recyclability or take-back programmes. In some cases, information was requested from suppliers, including material origins and Life Cycle Analysis data. Typical dimensions and colours were also recorded to help identify reuse opportunities.
To support regular use of the library and promote more awareness of what makes a "sustainable" material, the project team created an internal training session for designers covering circular and sustainable design and procurement.
What were the outcomes?
Over the course of the project, 59 Productions found, catalogued and categorised 200 materials. This included 16 preferable alternatives for projection surfaces which proved to be the most challenging material to classify, since they are made of specialist composite materials and must be fire retardant. The material library has allowed the team to compare material options quickly and easily. Prior to this, research was required to be done on a case-by-case basis, whereas now the database allows 59 Productions to determine the best solution almost instantly..
30 team members took part in workshops showcasing the new digital and physical material libraries and learned more about sustainable procurement. The training of staff has given the company a base level of understanding of the circular economy and its importance – giving them the vocabulary to explain to collaborators and clients how and why they've made decisions based on circular economy principles.

Going forward, the library will improve internal processes and enable the team to communicate their sustainability credentials more confidently to clients. It will also help record new information about suppliers, and empower designers to ask suppliers important questions that signal more demand for improved environmental credentials.
Lessons learned & next steps
Creating a material library and training up the design teams to use it has helped 59 Productions improve how they source materials that help reduce their carbon footprint. They have found that categorising and ranking materials helps create a culture of improvement by drawing more attention to progress made in the sourcing of materials for their operations.
During the process, some types of materials were easier to classify than others, such as timber and metal products. However, finding better alternatives to composite products including projection surfaces was more complex due to a limited number of suppliers being available, and limitations in the material datasheets they provided.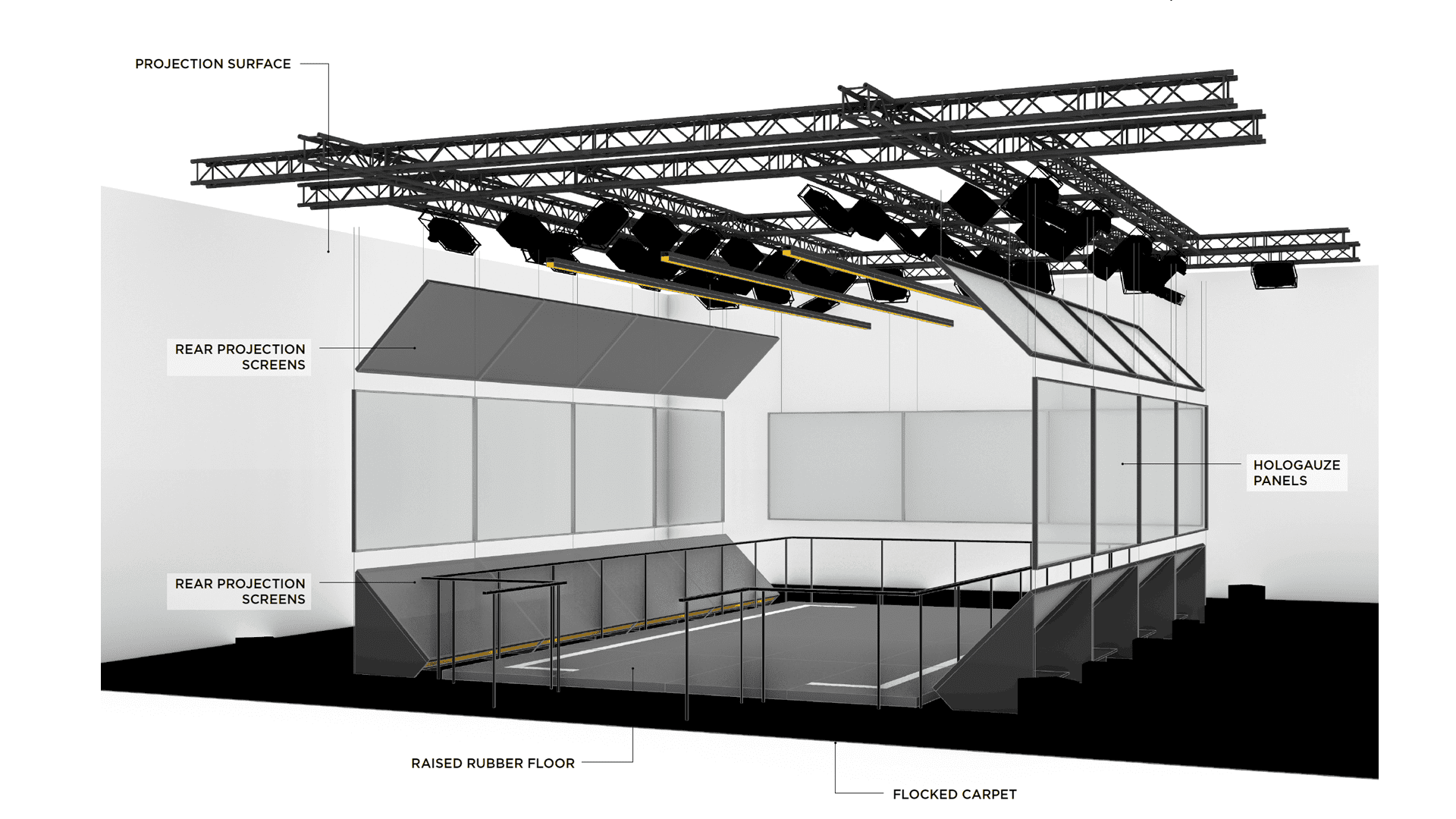 "We recently required a small set for a theatrical R&D project. As this structure was only required for a small amount of time, we designed it to be built using standardised components and then collected and repurposed by the fabricator to be used in another of their projects. This resulted in a low amount of waste for a project that traditionally could have ended up in landfill."
Matt Wreglesworth, Architectural Designer, 59 Productions
59 Productions' next challenge is to identify how to facilitate more reuse of materials. In the haste of deconstructing sets within short timeframes, contractors may be forced to damage material for speed and convenience. Equally, storage is not always available to hold materials for future use. This means designers need to be creative in their choice of materials at the design phase.
In addition, the use of complex materials such as projection surfaces is regulated, meaning these would need to be taken back by the supplier – unfortunately, this service is not yet common. And when the service is available, the design team will often need to depend on project partners (such as venue owners or contractors) to facilitate this or other recycling processes.
"A big challenge is finding suitable suppliers that provide alternative, sustainable materials that perform to the same level as what we currently use."
Asha Pandit, Architectural Designer, 59 Productions
Despite the challenges, the team is committed to finding new ways to reduce the impact of its designs and tackle some of the big challenges within the industry. The material library is a critical starting point to help enable that transformation.