A programme to enhance the collaboration between London's 33 local authorities, the Greater London Authority and industry to accelerate the shift towards a circular built environment.
Construction of buildings and infrastructure has major environmental impacts: it is responsible for 13% of greenhouse gases emissions globally and 62% of waste in the UK.
The challenge is huge in cities. By 2050, an additional 2.5 billion people are projected to live in the world's cities, and an additional two million in London alone. As urban populations grow, the need for buildings and infrastructure will intensify, making circular construction a necessity.
London, with its 9 million residents, needs to lead the way, as one of the largest global metropolitan economies and the largest city in Europe. It has already adopted a world-leading planning policy that puts circular economy on the agenda. There is political ambition to tackle the climate crisis: of London's 33 local authorities, 28 have declared a climate emergency. There is energy: many have started taking action to promote circular construction locally. But there is little structure to sustain momentum, align progress and enable collaboration across the supply chain.
The Coalition's ambition
The ambition of the London Circular Construction Coalition is to activate a vast and accelerated system change towards circular construction through the levers available to local authorities: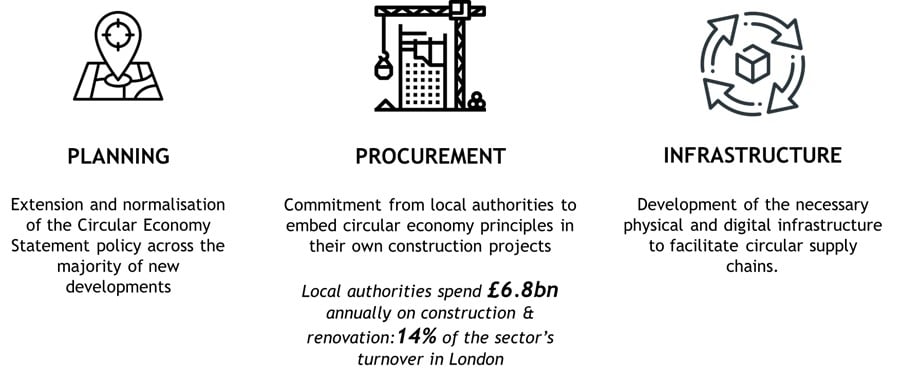 To achieve this change, the Coalition's network of boroughs, coordinated by ReLondon, will:
Develop the evidence base for new policy
Facilitate knowledge sharing and capacity building
Support practical implementation through working groups in collaboration with industry
Why ReLondon?
ReLondon is a partnership of the Mayor of London and the London boroughs to improve waste and resource management and transform the city into a leading low carbon circular economy. This mission is hard-wired into everything we do. ReLondon has strong experience in supporting circular construction in London, having supported the development of the Circular Economy Statement as part of the London Plan. We've also coordinated London's involvement in the CIRCuIT project and we've advised and supported individual boroughs on their own circular construction activities.
Funding required
ReLondon is seeking funders who are passionate about driving circularity in the built environment and achieving change at the city scale.
We are looking to start the programme by December 2023.
Contact us if you're interested in being involved.