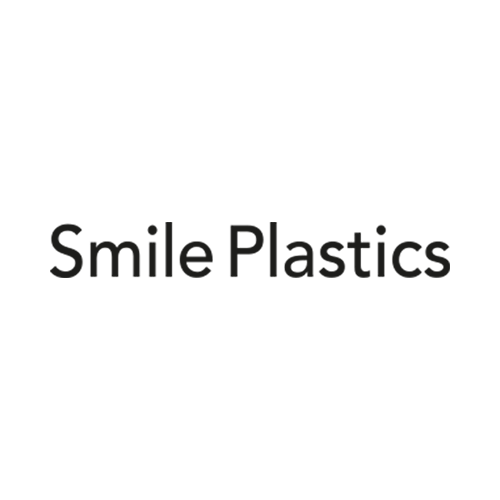 Circular Booster
Supported since 2017
Support given:
Smile Plastics' mission is to change the way people view and value materials by taking waste and transforming it into decorative materials and products.
"The biggest bit of help we got from ReLondon's Business Transformation team was raising our profile within the ReLondon network. They supported us in their office fit out by using our materials for cupboards and table tops, so we've also been showcased in that way. It's great to be connected with the team, there are lots of benefits to being part of this community."
Rosalie McMillan co-owner of Smile Plastics
About Smile Plastics
Smile Plastics dates back to the early 90's, when it was originally set up to transform waste plastics into decorative materials for architecture and design industries. It became a successful business, but after nearly 20 years the original founders wanted to retire and in 2010 the business was shut down. Adam Fairweather had been working closely with one of the founders, developing panel products using spent coffee grounds. When he heard that Smile Plastics was disappearing, he offered to take it on with Rosalie McMillan.
It took a little while for the pair to build up relationships with waste management companies and secure their supply chain for the different materials needed to get production up and running again, and in 2015 Smile Plastics was re-launched. The brand was also evolving from a decorative panel company to one that creates custom materials from difficult to recycle waste streams. The finished products are diverse and versatile, "they can be heat formed into interesting shapes, glued, screwed and fabricated into a whole range of different products depending on what the customer wants." – Rosalie. Clients come to Rosalie and Adam with specific aesthetic requests about how to turn their waste streams into bespoke pieces that are used to fit out stores and cafés with worktops, cupboards, displays for visual merchandising and even bathroom interiors. The materials they use can be anything from spent coffee grounds to black plastic trays that normally can't be recycled, which are then manufactured into unique decorative panels and objects.
As Smile Plastics was doing well and there were difficulties in producing enough materials to satisfy demand, they were keen to secure investment to grow and scale up their production operations. "It's a nice challenge to have, but we were getting pulled in many directions and had tight production ceiling limits. The primary goal was to secure investment and grow the business." – Rosalie.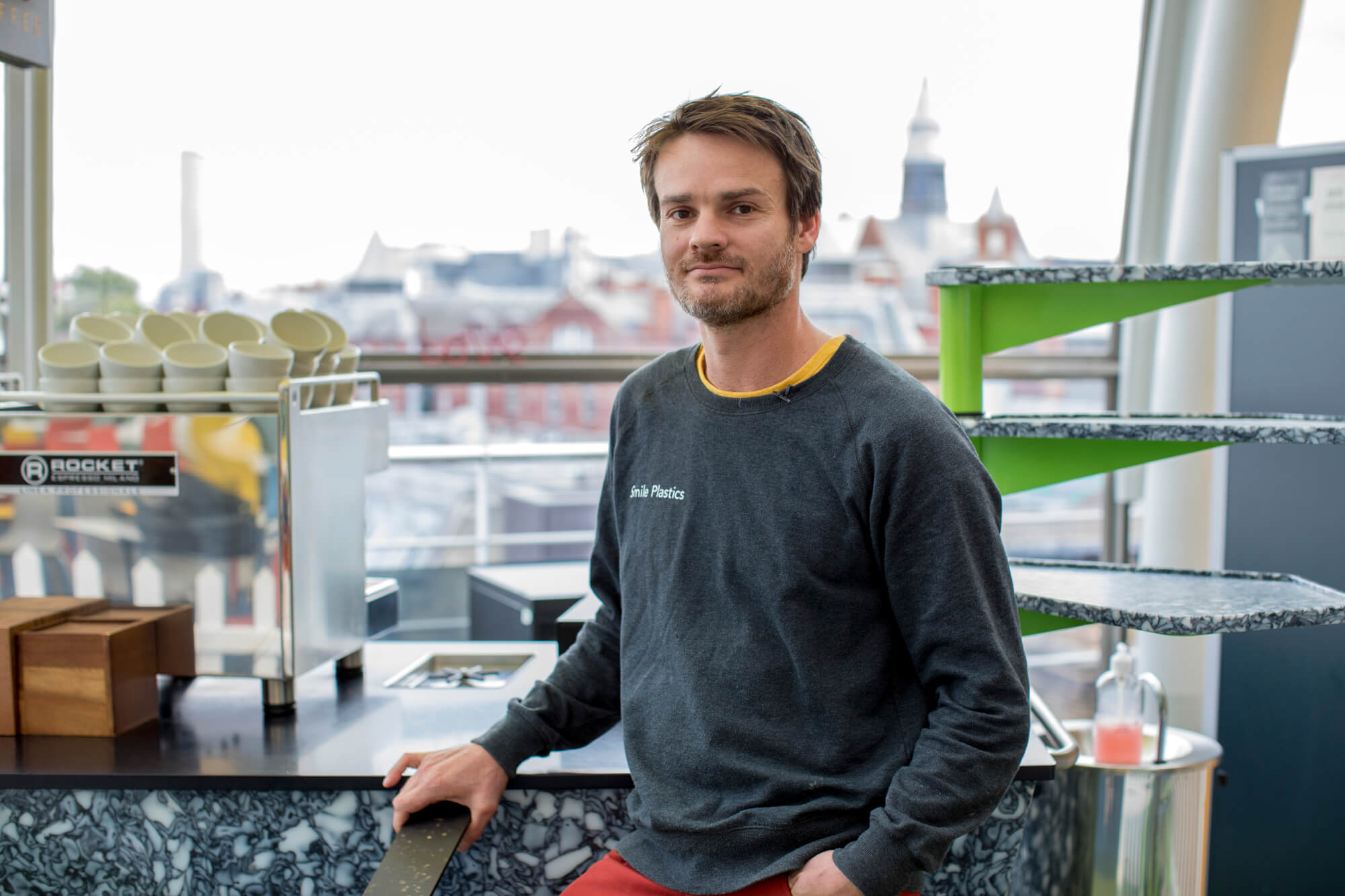 When Smile Plastics met ReLondon's Business Transformation team
Working with ReLondon's Business Transformation team led to Smile Plastics:
Refining their business plan and pitch deck
Connecting with several investors from the circular economy and impact investing world
Getting bespoke market research on alternative manufacturing locations and office space in London
Gaining access to networking and brokerage opportunities including at ReLondon's circular economy expo booth at FutureBuild in 2019 and the Waste to Wealth Business in the Community event, attended by HRH Prince Charles
The reward
Although keen to move to London, Smile Plastics used bespoke market research from the Business Transformation team to make an informed decision about relocating to new premises in Wales to grow their production capacity. "It was really tricky because we need a lot of space to create all our materials and London is too expensive, so it wasn't really an option." – Rosalie.
With more space to develop their production processes and new products, Smile Plastics have cumulatively diverted approximately 350 tonnes of plastic from landfill since 2015. Their profile was also given a boost by being part of ReLondon's Business Transformation network and to date they have worked with over 700 customers including Selfridges, The Welcome Trust, Harvey Nichols, Stella McCartney, Paul Smith, Lush Cosmetics and Christian Dior. Finally, in 2019 Smile Plastics successfully secured investment and have big plans to grow the business in the next few years.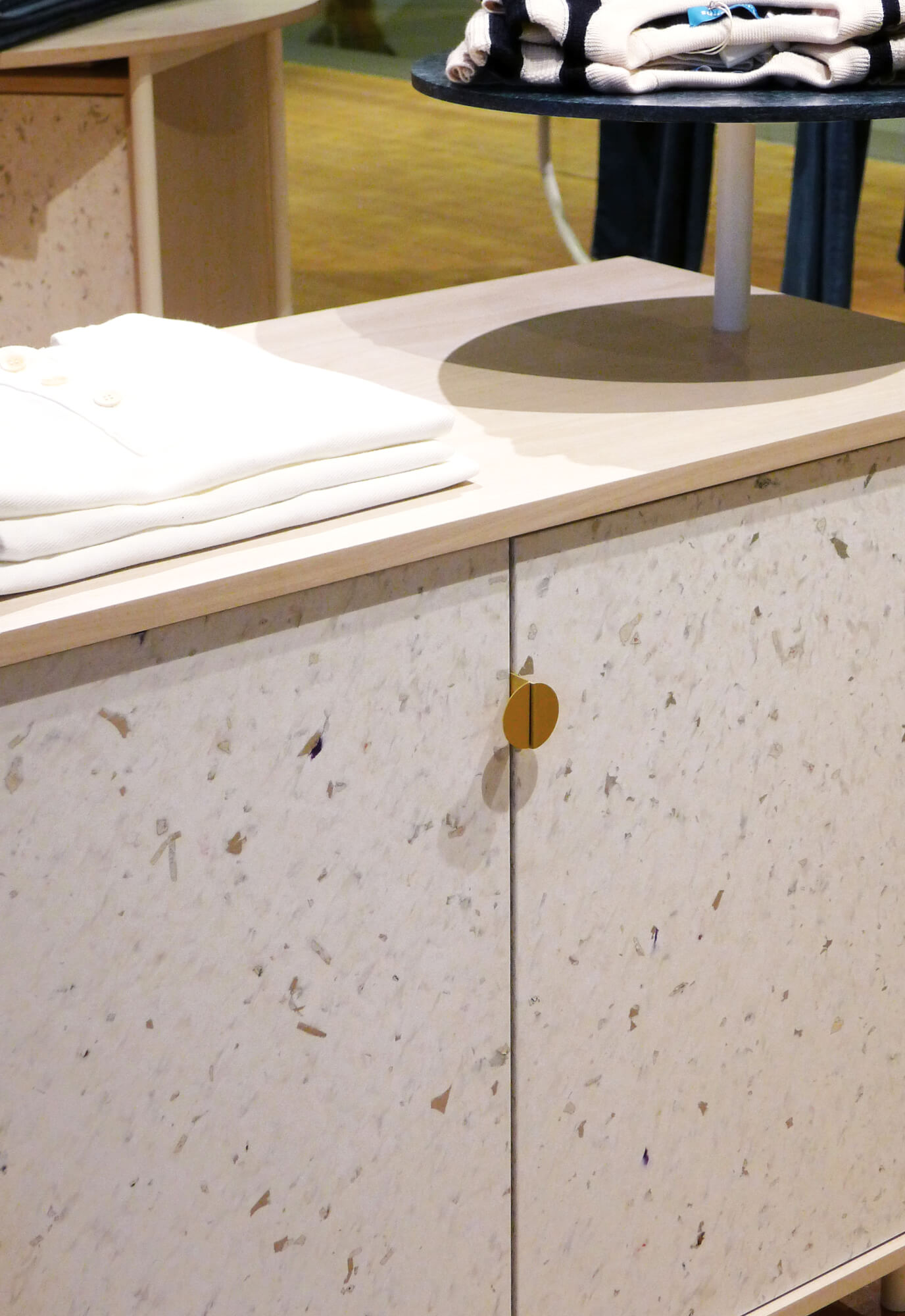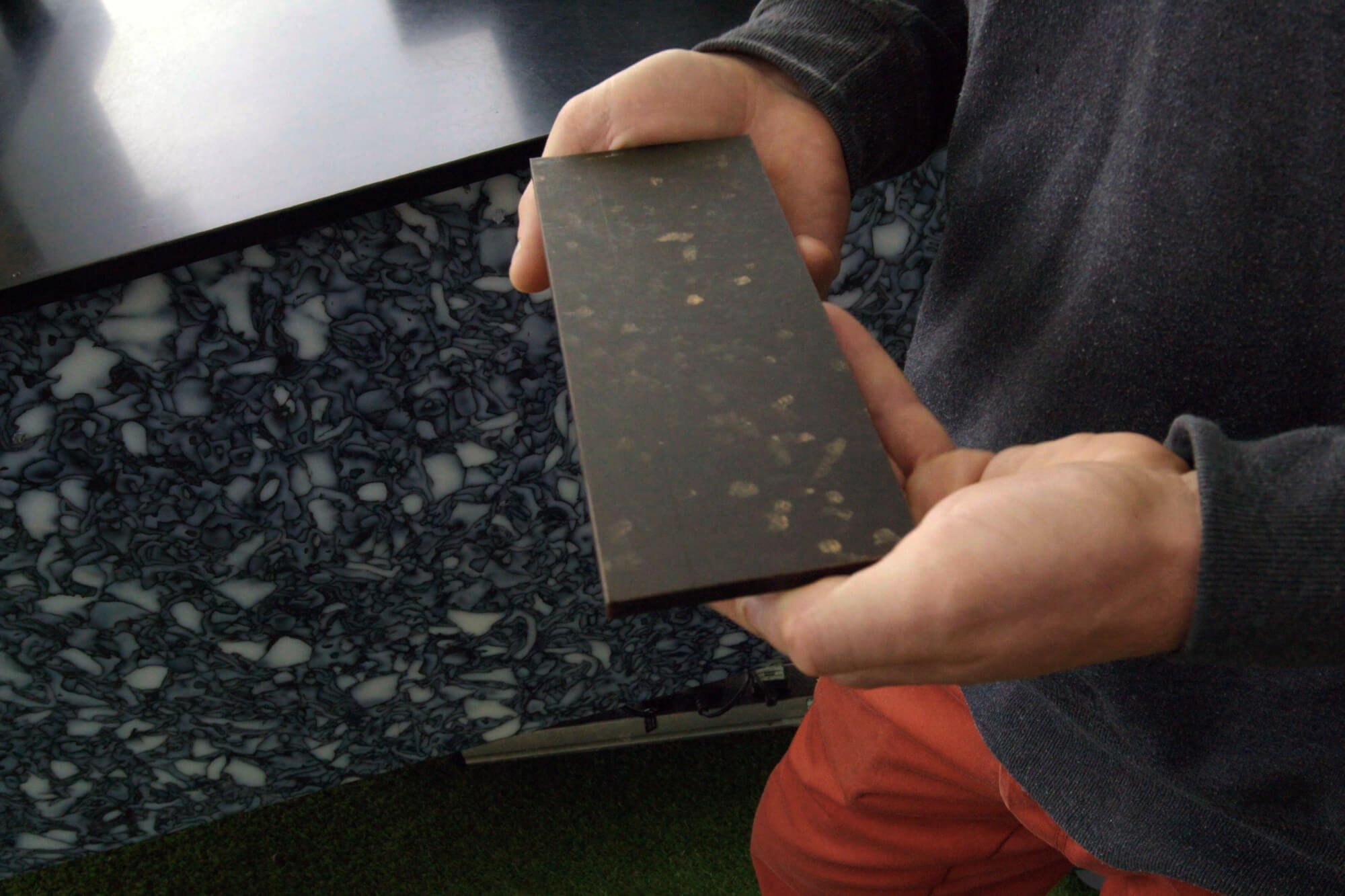 What's next?
In the next few years Smile Plastics are planning to quadruple the amount of waste they can recycle every week. As part of this growth, they are looking to open a concept showroom in London. They are also broadening the product offering and making it more accessible for customers. In 2020, Smile Plastics will be launching Studio Smile. "Studio Smile will be a range of designer furniture and statement pieces such as tables and chairs, but also smaller products like chopping boards and stationery. We really want to showcase what you can do with these materials. We were originally focussed purely on making large panels, but individuals can't always see how that can be applied within their homes. "We also want to be able to make our materials more accessible to people by offering finished interior products and furniture as well." – Rosalie.
Finally, Smile Plastics are planning on setting up an educational micro-factory within the M25, "the vast majority of what we sell is in London, so being able to engage with our customers here would be really great. We have this idea of having a micro factory where we'll be able to take local waste and transform it into beautiful materials and finished products for local communities around the world." – Rosalie. They are in the process of setting their first micro-factory up in Swansea in Wales, and once this has been refined will be looking to open abroad.
Find out more about Smile Plastics at www.smile-plastics.com