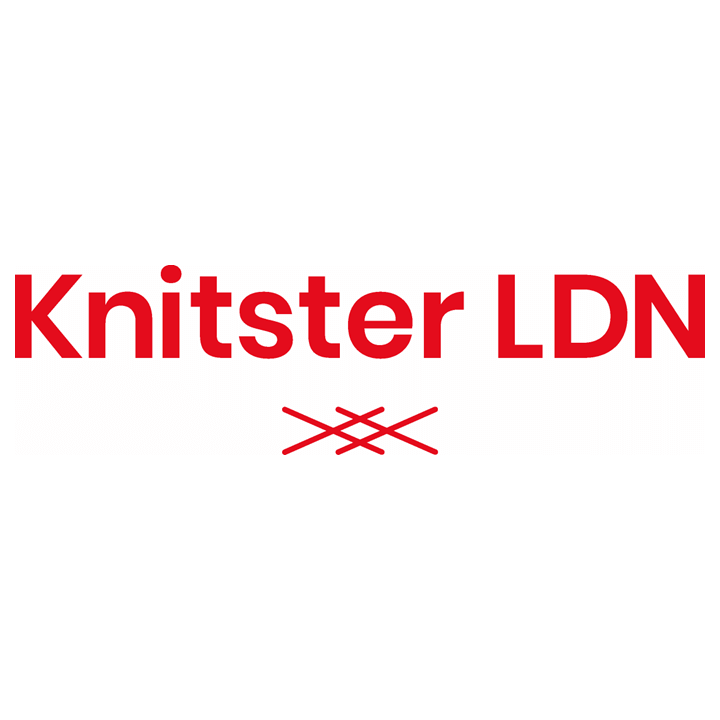 Support given:
Knitster LDN, a knitwear prototyping studio, saw first-hand how much surplus yarn gets wasted during the design and manufacture of garments. The company wanted to develop a way to transform this hard-to-use leftover yarn into new, desirable products.
Thanks to a grant from the Mayor of London's Green New Deal and support from ReLondon's business transformation programme, Knitster purchased specialist equipment to develop a new process to reuse surplus yarn, and work with clients to create new designs that don't use new yarn. Through the pilot, Knitster worked with clients to create three new prototypes, using 46% of its deadstock yarn which saved 111 kg from going to waste and reducing the amount of new yarn ordered by 27%. The business has since expanded to become a micro knitwear factory, continuing to make use of deadstock from its suppliers.
What was the challenge?
Knitster LDN is a knitwear prototyping studio based in London but with international standing. It coordinates numerous knitwear production orders across the UK, Italy and Turkey. The company has built a successful client portfolio, including leading fashion labels such as Hayley Menzies, Bottega Veneta, Alexander McQueen and Cole Buxton, amongst others.
Knitster LDN witnessed first-hand how much yarn is wasted during design and manufacture of knitwear. This is due to the common practice of ordering extra yarn to allow for inefficiencies during the manufacturing process. As a result, each of their clients produce an average of 15kg of waste yarn or deadstock per year. The problem is that this deadstock yarn is often made up of small quantities of many different fibres, qualities, colours and thicknesses, which makes it difficult to reuse commercially.
Knitster LDN saw an opportunity to strengthen their sustainability credentials by offering their clients and supply chain partners the option to use left-over yarns from previous productions. This would not only reduce the overall resource intensity of making knitwear; but would also make Knitster LDN more competitive by reducing the cost of buying new yarns, releasing revenue from the deadstock, and potentially attracting new sustainably minded clients.
Knitster LDN was already holding on to surplus material from previous productions, and decided to use this stock to trial new processes to transform it into useable yarn.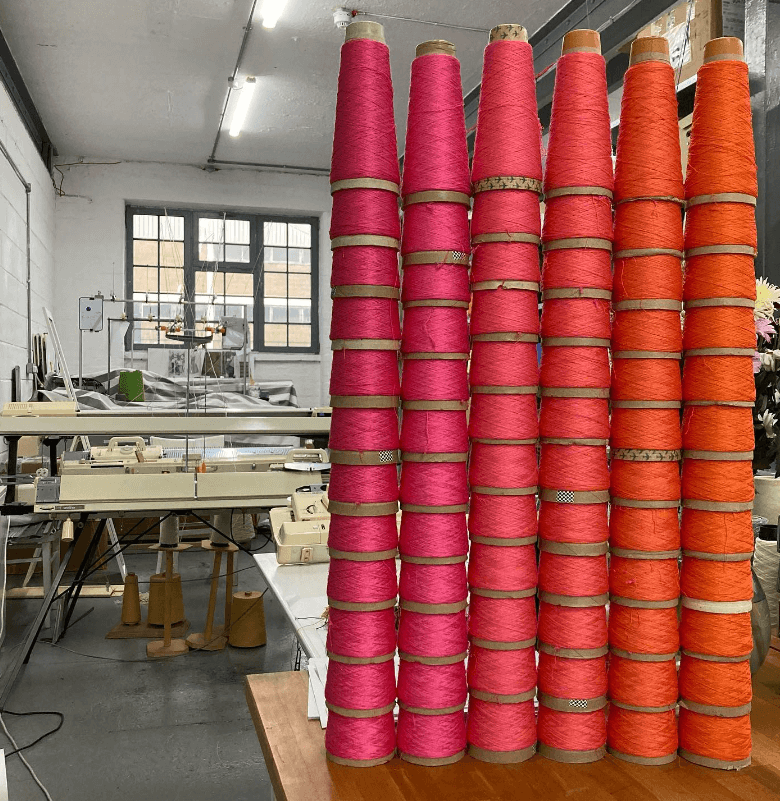 What was the response?
Knitster LDN was selected to receive a £10,000 grant from the Mayor of London's Green New Deal and advisory support from ReLondon's ERDF-funded business transformation programme. Using the funding, Knitster LDN was able to purchase a specialist Shima Seiki knitting machine that would unlock their ability to transform the variable deadstock yarn into a useable material for their clients and partners.  
The first step for Knitster LDN was to build a strong understanding of the breadth and attributes of their existing deadstock supply. They manually created an inventory of all the deadstock yarns they had accumulated – each cone of yarn was returned from storage to their London studio, and (painstakingly!) recorded and weighed.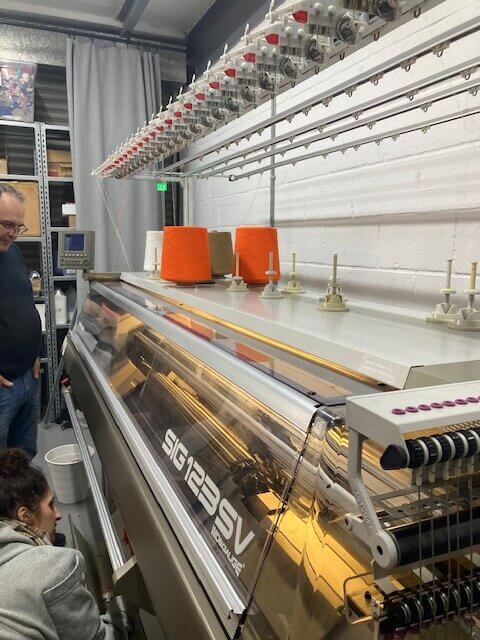 During this time, the team had to navigate delays to the delivery and installation of their Shima Seiki knitting machine, caused by the dual pressures of covid-19 and Brexit on the supply chain. But time was not wasted, with the team instead using hand machines to experiment with and develop new stitches, to make the most of the machine when it would eventually be in place.  
With the deadstock categorised and the machine finally in place, Knitster LDN was able to work closely with a client to experiment with knitted swatches. Through this process, they discovered that techniques that were normally successful with traditional, 'new' yarn didn't work as well with the variability and sizes of deadstock. They took a trial-and-error approach with stitch types and colour combinations to develop a blended design created with the combination of deadstock yarns. 
"All of the items in my collection, aside from the knitwear, are made using deadstock fabrics. It was music to my ears when Knitster asked me if I wanted to be part of their deadstock pilot."
What were the outcomes?

During the pilot, Knitster LDN was able to reuse 46% of its deadstock, thus avoiding 111 kg of yarn from going to waste over a six-month period. This resulted in a 27% reduction in virgin yarn being ordered for new projects. The pilot also resulted in the development of three new prototypes, two of which were the first orders that they produced in London on their Shima machine (the third was outsourced due to the size of the order!).
Knitster LDN was pleasantly surprised to discover that an additional benefit from using their deadstock was reducing the lead time for sourcing material because it was readily available.
Thanks to this funding, the company also created two part-time roles; a junior programmer via the Kickstart scheme and a freelance senior programmer. The Kickstart workers have been imperative to the success of the deadstock project and look forward to continuing the project.
This pilot has proven the business case for offering the 'deadstock process as a service' to all clients. Thanks to this support, Knitster LDN will be revisiting its business model: transitioning from a studio that typically outsources production using virgin yarns, into one that does prototypes and small-scale production runs in-house using deadstock yarn. They hope to see a 5% increase in net profit by the end of year one as a result.
"Having the means to repurpose deadstock yarns has given us the ability to design truly one-of-a-kind limited-edition garments for our clients. Even with limited material choice we have been able to bring a sense of play and experimentation to our designs that are now coming to life with our new Shima Seiki industrial knitting machine. This project will reduce our company's waste and assist with lowing our carbon footprint. As they say, 'waste isn't waste until it's wasted'."
Rhona MacKillop, Knitster LDN, Studio Co-ordinator – Kickstart
Lessons learned & next steps
Knitster LDN's case study shows that new processes need to be developed and refined for a circular economy to work. Here is where public funding and business support can help, by de-risking the development of these untried methods.
Finding fibre-to-fibre recycling solutions is critical to the fashion industry's ability to go circular but is also very challenging. This is because it demands that lots of different colours and profiles of thread be processed together. Wool is notoriously hard to re-process due to the fibres becoming progressively shorter each time it Is recycled, affecting its strength and functional properties. This is why Knitster LDN's pilot is so important, with the grant allowing the business to experiment with this process, explore their equipment needs and continuously innovate so that the new service could become a lasting part of its business offering.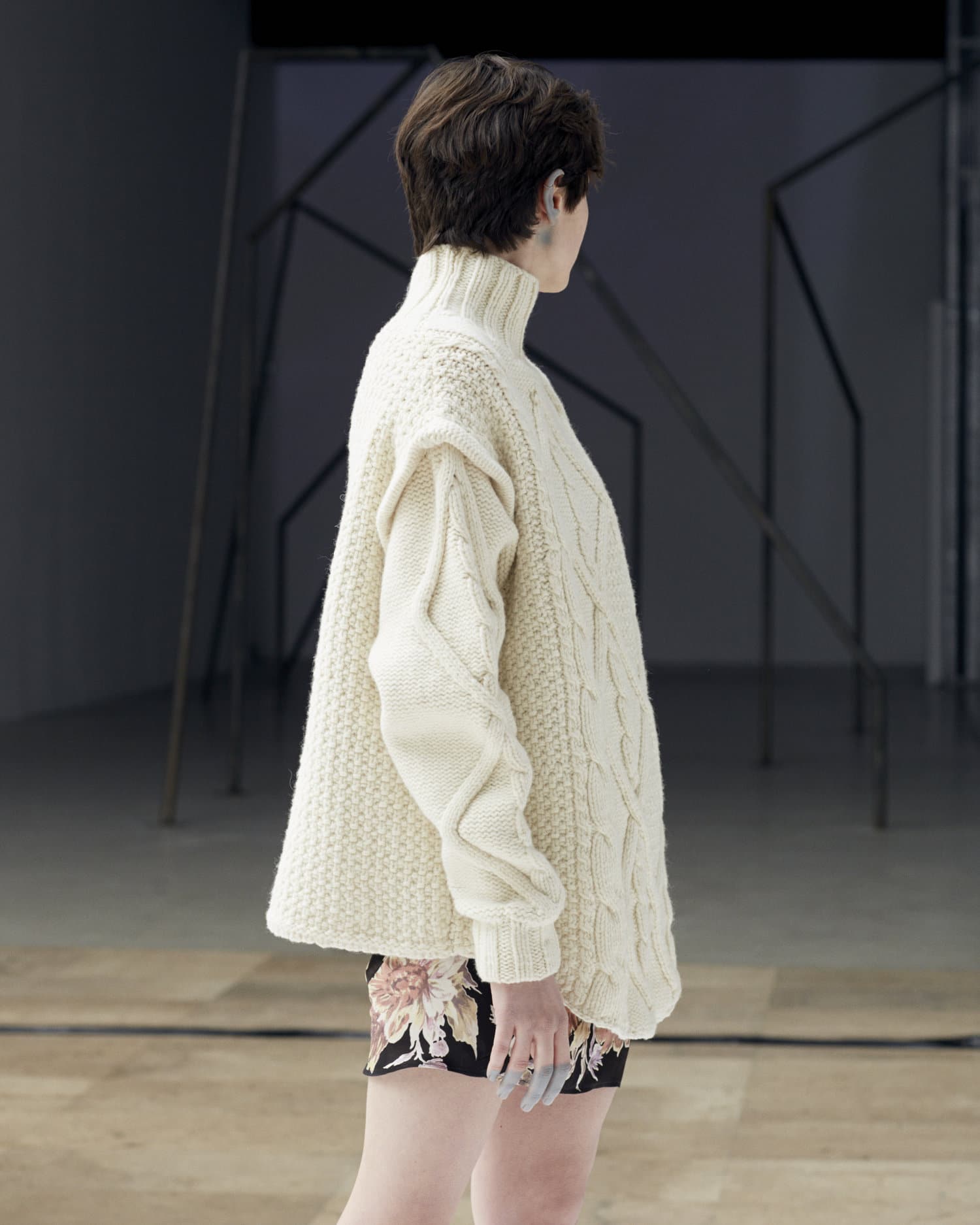 Knitster LDN's experience shows that innovation in the circular economy goes beyond technological or process improvements – it also requires a design-led and user-centred approach to ensure new solutions meet the needs of the existing industry. Knitster LDN had to experiment with different designs to make sure the garments they produced from deadstock met their clients' needs. Through the pilot, Knitster revisited their existing techniques and adapted them to create garments that were better suited to the new yarn. In turn, the creation of new yarns has catalysed new design approaches with clients.
Going forward, Knitster LDN is looking at securing a reliable stream of deadstock fabric, strengthening the relationship they have already formed with a leading Italian mill and from whom they buy the deadstock at a reduced price. This is because waste can be inherently unpredictable, so it is important for any business making products from 'waste' or suplus to set up the right sourcing strategy. Knitster LDN will leverage the insights from this pilot to ensure they source the most versatile deadstock yarn, particularly when running production of garments that need to be in the same style (but is using inherently variable blended fabric).
Evaluation from pilot
Building on the success of this pilot, Knitster has invested in more equipment to expand production and become a micro knitwear factory. They have already used up nearly all of their own deadstock!
Knitster is looking forward to developing and enhancing their technical skills and expertise in using the Shima machine, plus additional equipment and software. Their aim is to find a perfect understanding of how to treat and finish any combination of deadstock yarns (e.g. cotton with Shetland wool, or silk with lambswool), with their customers' needs always at the front-and-centre of their service.