News
Food that doesn't cost the earth: New guide launched
26/06/20
We're proud to have launched our circular economy guide for the food service industry, in collaboration with the Sustainable Restaurant Association (SRA). It puts restaurants and food businesses at the heart of the green recovery, building a more resilient, sustainable food economy that doesn't cost the earth. Restaurants and food business owners can use this practical toolkit to help them eliminate waste, reduce carbon emissions and 'build back better'.
Watch our launch webinar below in which we introduced the key aspects of the guide, featuring contributions from guest speakers Arthur Potts Dawson (Chef's Manifesto & Omved) and Grace Regan (SpiceBox), who are pioneering the circular approach within their own businesses, together with Andrew Stephen, CEO of the SRA.
About the guide
Our guide contains practical actions food business can take, using a more circular approach to reduce their impact on the environment and make their business more resilient to future shocks.
With actions focused around seven key ingredients (food and drink, energy, transportation, consumables, facilities management, packaging and water), it takes the complexities of the challenges faced and boils them down to five simple principles of a circular food business: buy less, buy smart, use resources more efficiently, throw away less and throw away smarter.
"If you are serious about tackling the climate emergency, you absolutely must take at least some of the seven ingredients in this guide and start to create your own menu for a food future that improves rather than damages the environment and which extracts maximum value out of your precious ingredients "
Raymond Blanc OBE, President of the Sustainable Restaurant Association
Why is this all very important?
The average London food service business could save £6,000 a year by wasting less food – equating to a £240m saving for the capital's restaurants.
And the benefits aren't just financial, implementing the actions in the guide will have a positive effect on the impacts that arise from running a food business. The guide is full of examples of businesses making the circular approach work for them: 15 great case studies in total, demonstrating that there is another way to do it.
Who attended?
We were thrilled to have 120 attendees from a whole range of organisations join the webinar. It was fantastic to see, in the poll responses below, how many food businesses are keen to learn how they can build back better and that, despite concerns about re-opening post covid, so many are making sustainability a priority.
If you are a London based SME food business looking to do just that, make sure to register for our upcoming Circular Food Business workshop.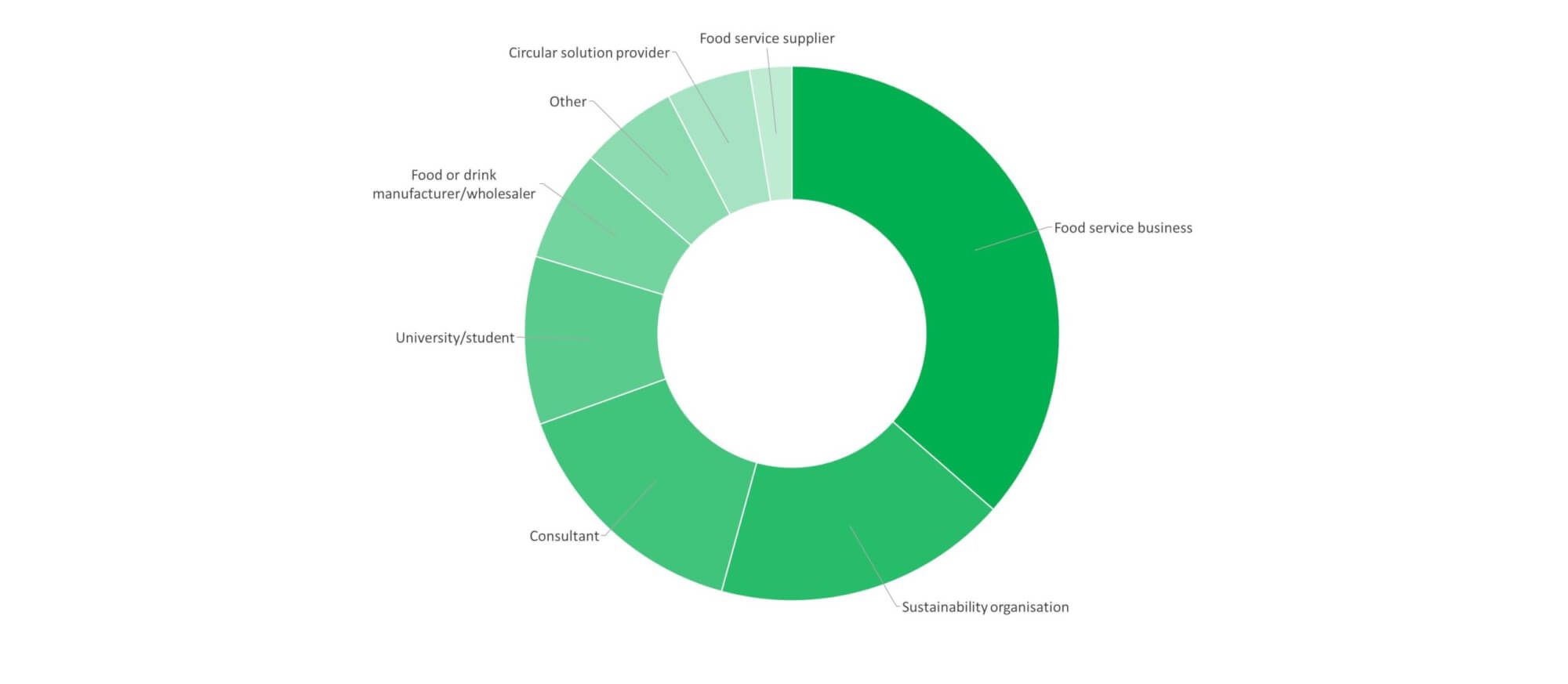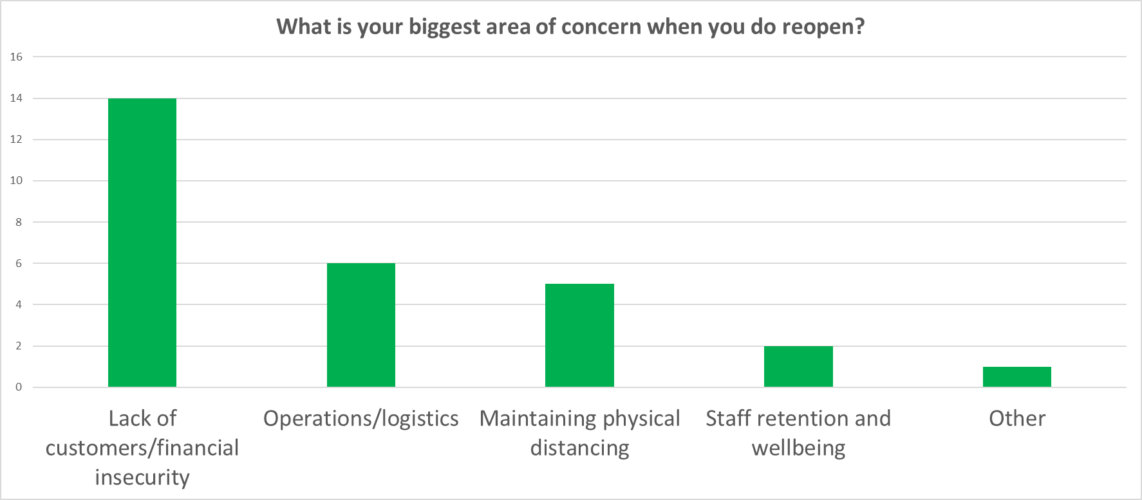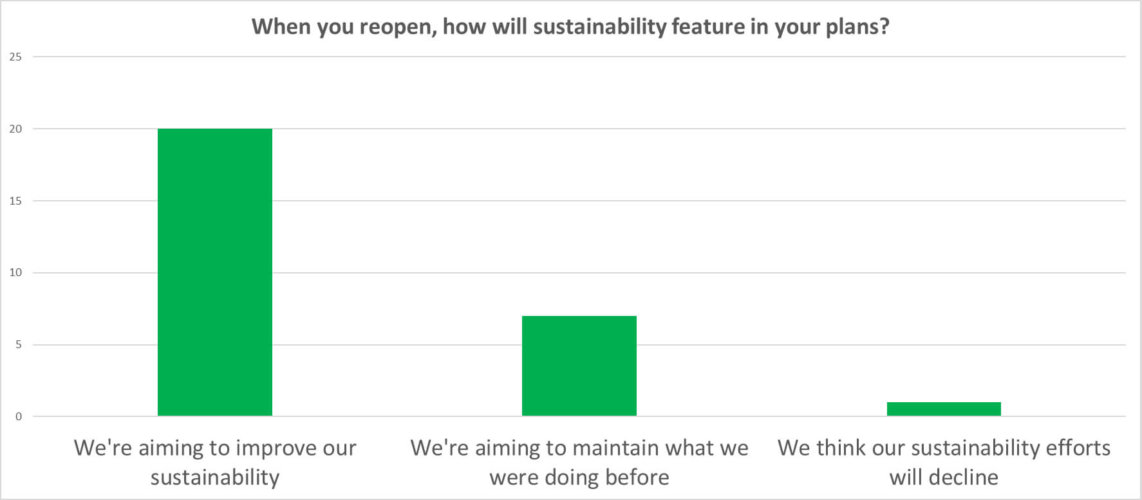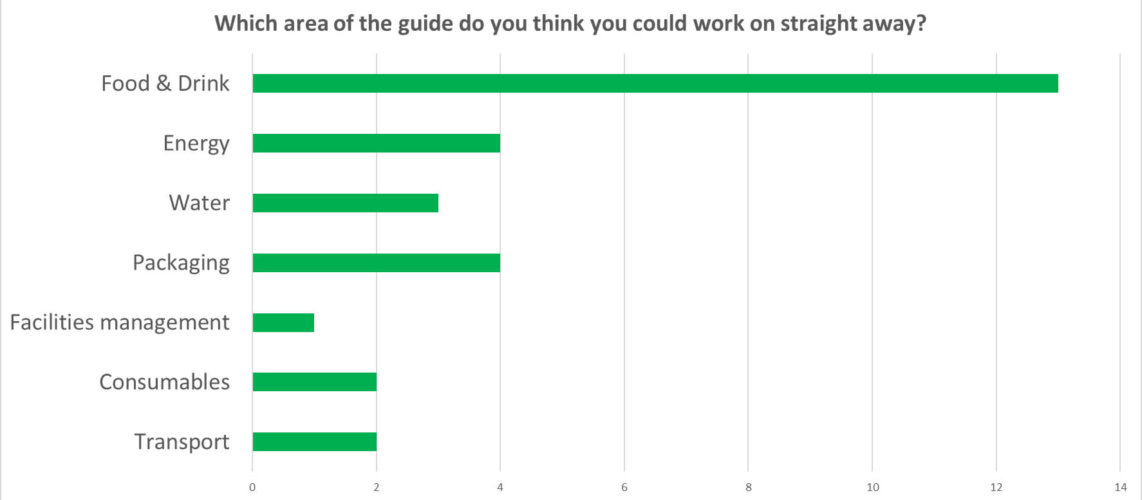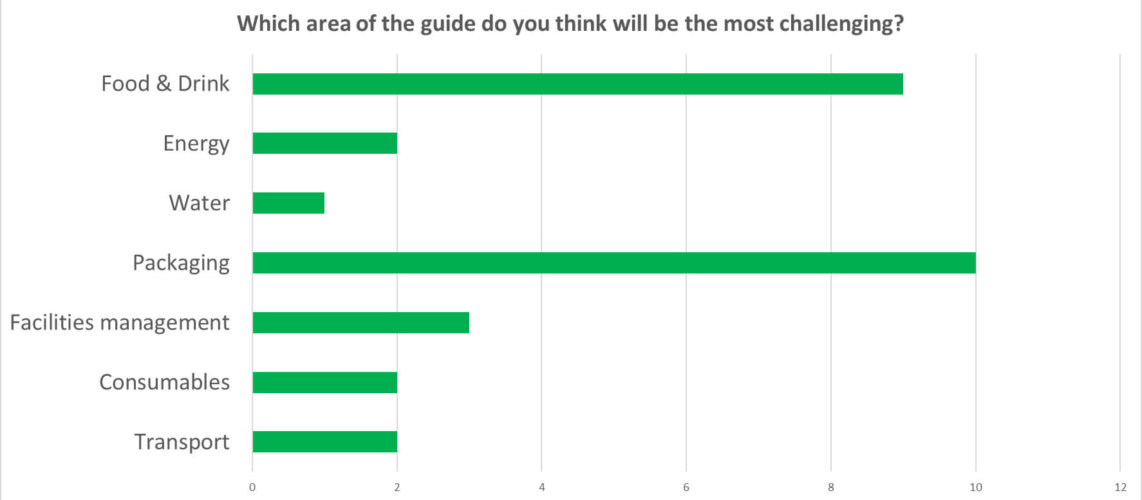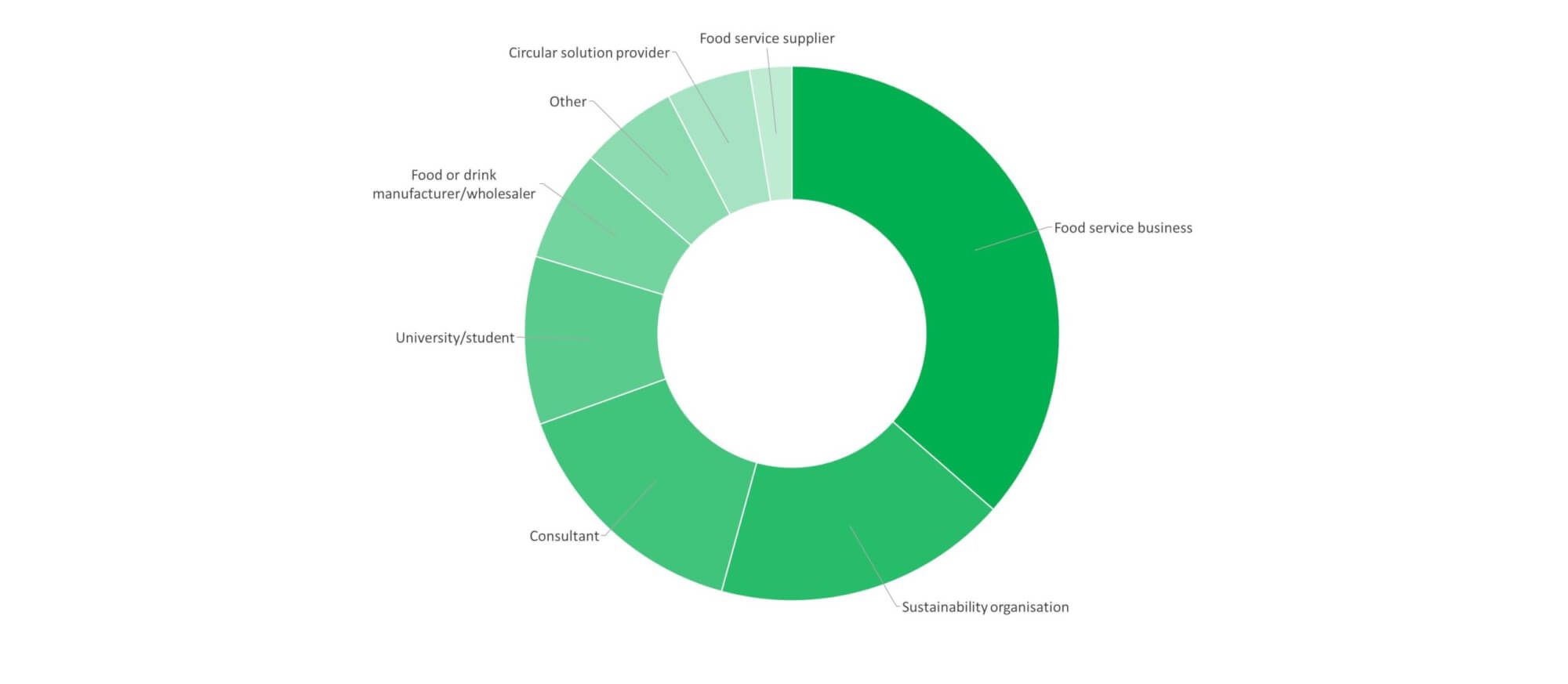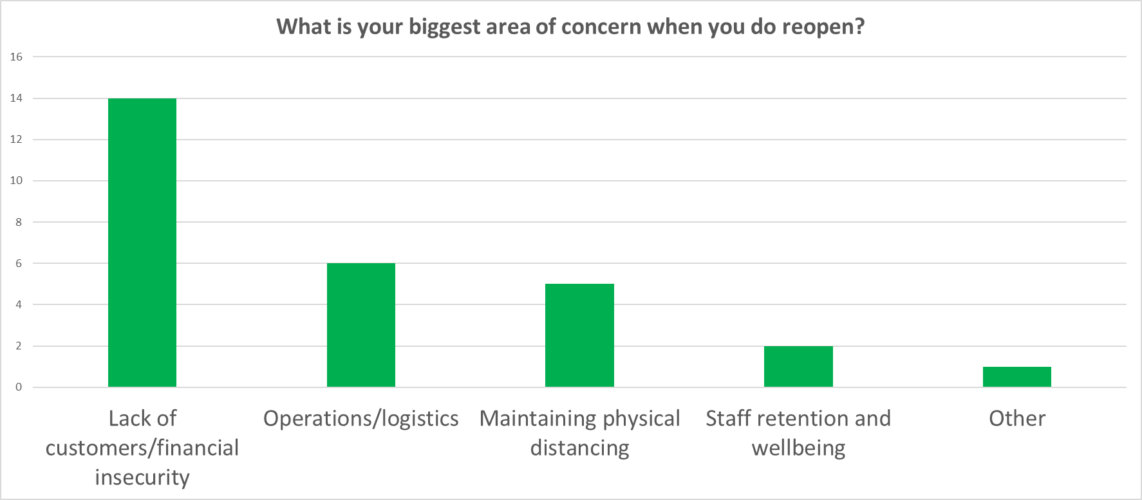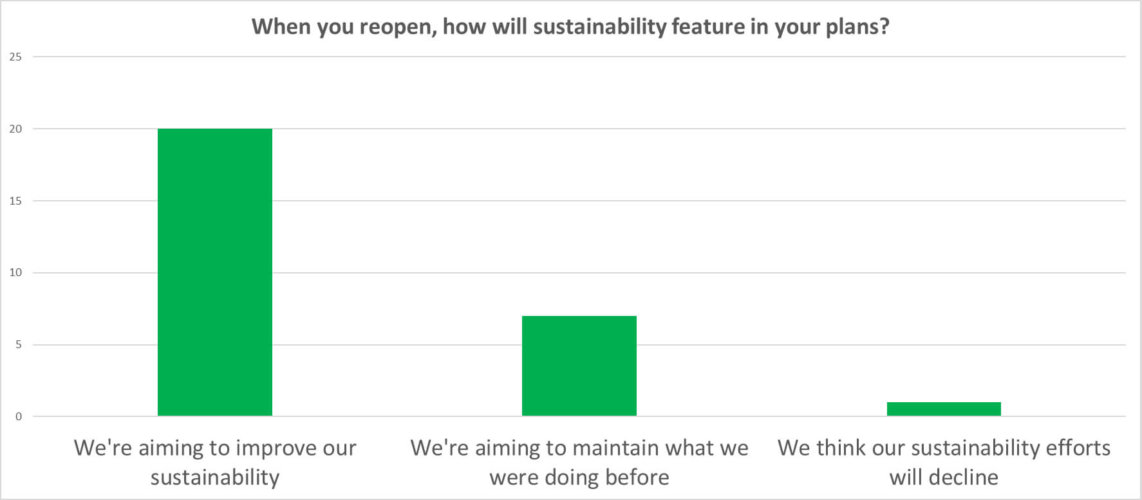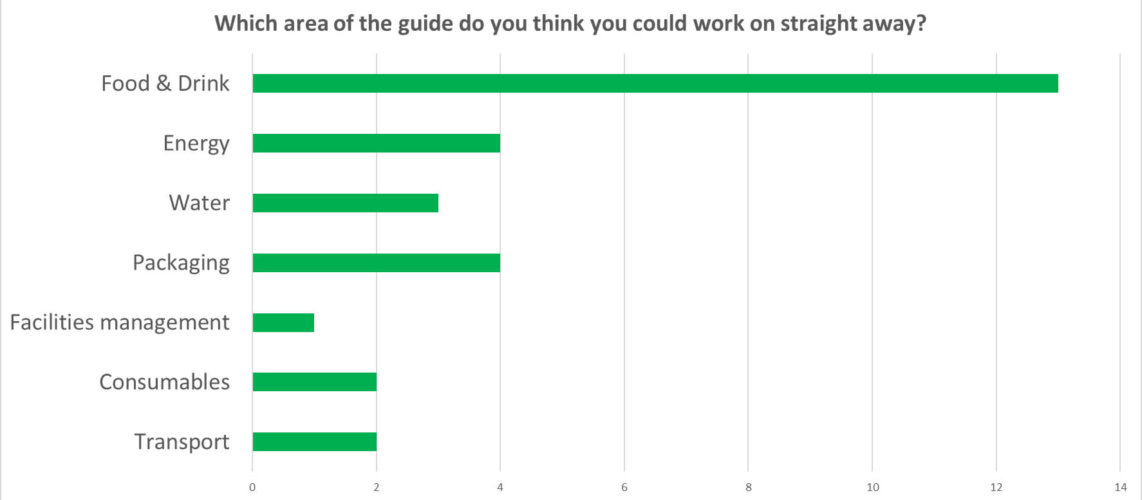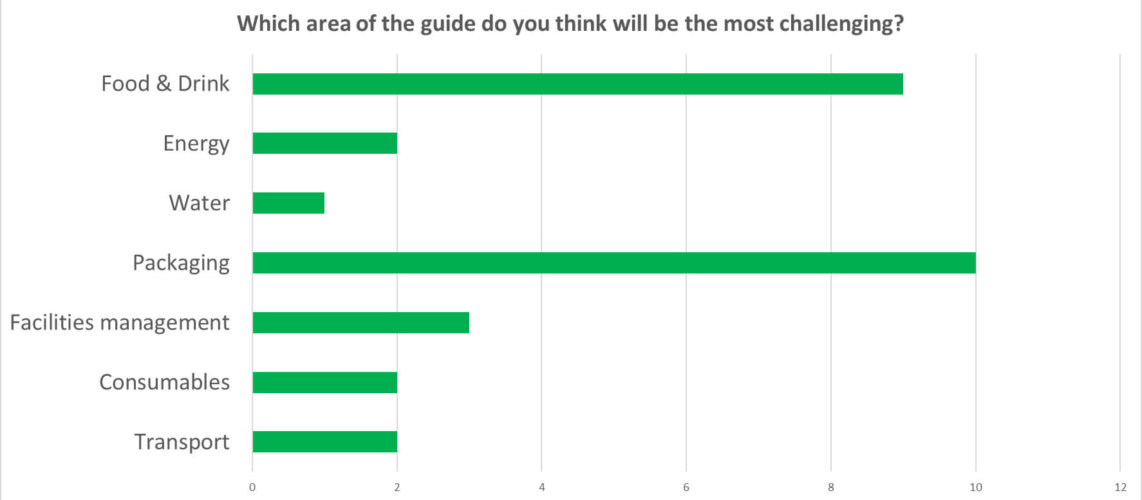 Q&A
We received many fantastic questions from our audience which we didn't have time to answer during the webinar. With the help of our panelists, we've included the answers below. Of course, if you have more questions or feedback on the guide, don't hesitate to contact us at info@advancelondon.org.
Q. I work for a large restaurant group in Bogota, we work very hard on being sustainable and sourcing sustainable products, I'm the chef for 2 of the restaurants which are both meat based concepts, we try to look for sustainable beef and pork but it's not easy. What recommendations have for me? What should I look for when sourcing my product?
Aim for high welfare/low carbon
Look at any relevant animal welfare certifications that exist in country.
Look for transparency / traceability back to farm
Buy direct / buy whole carcass and build menu to use whole animal
Reduce portion size on the menu
Q. Love this guide. Thank you. How are you advocating for human rights and taking actions to support BIPOC throughout food production and service?
You can find more information on this on the SRA framework here, looking at customers, staff and supply chain.
Q. A super guide, thank you! Is it applicable to small family restaurants without the staff and money to make the changes? Is this guide available in other languages?
There is something in the guide for operators of all sizes. Many of the businesses included as case studies are small restaurants and all the recommendations in the guide can be implemented by restaurants of any size. The guide is currently only available in English but we are open to collaborations to translate it into other languages. In fact, we have already had a proposition to translate it into Spanish!
Q. Any thoughts on encouraging charging/paying the appropriate prices for food upfront without outpricing lower income communities? Are there any inspiring social initiatives to spread sustainable food system values?
Box schemes offer lower margin ways to connect food producers with customers and make fruits and vegetable affordable for all. There are some interesting trials using food vouchers to fight against food poverty and ensure healthy and sustainable diets for low income/at risk communities. See for example Sustain's food voucher scheme for pregnant women and young children in low-income families.
Q. Is everyone using Too Good To Go and Olio now?
Not everyone is using redistribution organisations but they are an excellent means of ensuring that food ends up being eaten and not a bin while in some cases also providing additional income for the operator. You can find more information on the food surplus section of the guide (p24). Download it here.
Q. COVID made consumers more aware of the food supply chain and encouraged use of localised food systems. How can we make consumers care more about source of ingredients in restaurant food?
Showcase local producers on the menu – tell their story. Consider a special section on your website championing your hero suppliers. Use social media to do the same thing and, when appropriate, host special supplier dinners etc
Q. For Grace – how much space do the tiffins take up in your restaurant? Have you had to carve out more space for storage? Has it been an issue at all? Thanks! From Vancouver, Canada
Grace: We store some of the tiffins along shelves in the curry house and some in their storage unit. This hasn't been a significant issue up until now as we are using existing storage capacity.
Q. I'm a sustainable foodservice consultant from Barcelona. I'm desperate to see this huge jump back in single use materials in restaurants. Do you think we could begin to talk again about using reusable and less packaging…soon? I'm afraid of this "new hyper hygienic reality" 🙁
The COVID crisis has definitely been a set back for reusable packaging schemes and has slowed down the positive trend to reduce single-use packaging. However, food service businesses are now organising themselves to overcome the hygiene challenges. More than 100 scientists have published a statement to reassure the public that reusable containers are safe during the Covid-19 pandemic. Their advice for consumers is to wash reusable containers thoroughly with hot water and detergent or soap. More info here.
Q. What do you think about clean deliveries or supporting suppliers that are using low emissions transport?
Clean deliveries are key not only to reduce greenhouse gas production but also local air pollution. Polluting vehicles account for around 50% of London's toxic nitrogen oxide (NOx) air emissions, and air pollution is estimated to cost the UK economy £20 billion every year (Environmental Audit Committee). A whole chapter of the guide is dedicated to clean transportation. Download it here.